---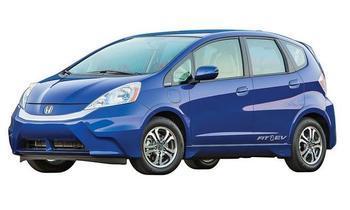 Pretty soon, automakers will be paying you to go humming off in an all-electric car. Nissan dropped the lease price of its Leaf to $199 a month and now Honda says it will leave you a Fit EV for $259 a month.
It will cost you $1,999 to drive off in the Leaf, while Honda says it is offering the Fit EV with no down payment. Even more amazing, it's dropping the monthly lease payment to $259 for any existing Fit EV leaseholder.
Honda's offer also includes collision insurance, scheduled maintenance, unlimited mileage and a 240-volt Leviton charger, although you'll have to pay the installation cost for the charger.
Honda says it is also expanding the number of Fit EV dealers from 36 to more than 200 by the end of June. Honda now sells the car in California, Oregon, New York, New Jersey, Massachusetts, Maryland, Rhode Island and Connecticut.
The Chevrolet Spark EV, meanwhile, will be priced at $27,000 when it goes on sale in California and Oregon this month. That works out to $19,500 after a federal tax credit of $7,500.
---