---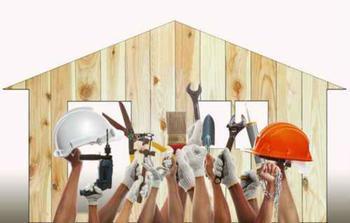 Home sweet home might just become a little less so if costly repairs crop up -- and for most homeowners, they will.
Less than 40% of homeowners regularly maintain their home to the extent that it should be maintained, according to a new survey from Esurance.
It's important for homeowners to proactively take care of problems that may stem from a home's maintenance systems. Additionally, homeowners should make sure their insurance policies and home improvement budgets are in tip top shape.
But when it comes to maintaining a home's functionality and appearance, taking matters into your own hands isn't always the solution.
Downsides of DIY
Forty-five percent of homeowners believe they're better suited for the job of maintaining their home than a professional. However, this confidence may come back to bite them when their money-saving efforts ultimately end up costing more.
Among those who didn't let their lack of knowledge stop them from tackling a DIY project, more than half (52%) needed to hire a professional to fix their mistakes. Knowing when to let a pro take the reigns is important, says Jeff Ill, vice president, homeowner product at Esurance.
"Whether you're a new or longtime homeowner, knowing how to properly maintain your home, and when to leave it up to a professional, could save you time and money in the long run," Ill said in a statement.
Maintenance tips
To stay one step ahead of unexpected home maintenance fiascos, it's important to be prepared. These helpful tips can keep homeowners on top of their home maintenance game.
Create a "just in case" fund. Expect the unexpected by preparing financially. This can be done by setting aside an annual budget of 1% of your home's value.
Consider hiring a pro. Chances are you haven't been professionally trained to deal with every home maintenance situation. It may be tempting to DIY, but some projects are better left to credible professionals. 
Know when to DIY. Some projects will be perfectly safe for the do-it-yourself crowd. If you're particularly DIY-oriented, learn which projects you can do yourself.
Stay on top of upkeep. Homeowners should regularly clean, inspect, and check home maintenance systems to ensure everything is working properly.
Review your insurance policy. Review your insurance policy annually; be aware of what it covers and what it doesn't.
---