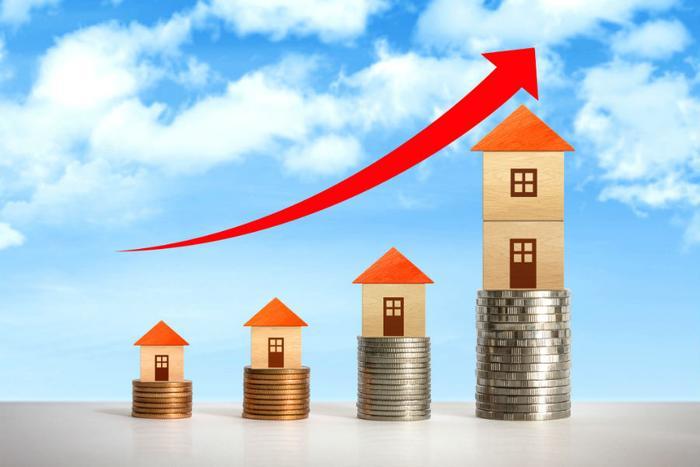 The housing market has cooled in recent months with home sales slowing from their redhot pace, but the prices consumers are paying for homes is still going up.
The monthly S&P CoreLogic Case-Shiller Index shows home prices rose an average of 5.5 percent in October even as pending home sales, as measured by the National Association of Realtors (NAR), fell 2.6 percent.
Lawrence Yun, NAR's chief economist, said that ten straight months of decline certainly isn't good news for the housing market.
"The recent rise in mortgage rates have reduced the pool of eligible homebuyers," he said.
But that hasn't stopped home prices from rising. The Index gauges housing in all nine U.S. Census divisions and found October's rise in the median home price matched September's results.
Las Vegas leads the way
Prices rose the most in Las Vegas, San Francisco, and Phoenix. The median price in Las Vegas was up 12.8 percent, followed by San Francisco at 7.7 percent and Phoenix close behind with a 7.6 percent year-over-year increase.
Even measured on a month-to-month basis, the price of putting a roof over your head is climbing, albeit at a much slower rate. October home prices were 0.1 percent higher than they were in September.
Normally, when sales slow down so do prices, but this market is different. Since the recovery from the 2008 housing crash, the number of available homes has steadily declined. There is still enough demand for homes to support the value of those that are available, and in some cases push them higher.
Mortgage rates are now a factor
Rising mortgage rates also create headwinds for potential buyers, making monthly mortgage payments that much more expensive. David Blitzer, managing director and chairman of the Index Committee at S&P Dow Jones Indices, says that means homes sales are likely to remain on their downward trend.
"The combination of higher mortgage rates and higher home prices rising faster than incomes and wages means fewer people can afford to buy a house," Blitzer said. "Fixed rate 30-year mortgages are currently 4.75 percent, up from 4 percent one year earlier."
At the same time, home prices are up 54 percent since bottoming in 2012. Consumers who hope to sell their homes in 2019 may find they have to be more flexible on price. Potential buyers, meanwhile, may have a little more bargaining power.