---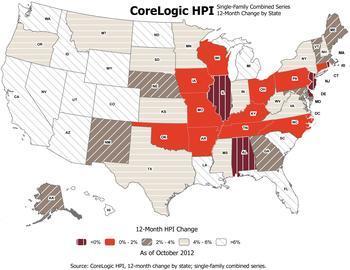 Homeowners are steadily seeing in increase in equity in their homes as CoreLogic, an analytics company, reports home prices -- including distressed sales -- increased on a year-over-year basis by 6.3 percent in October 2012 from a year earlier.
It's the largest increase since June 2006, when the market was at its zenith. It's also the eighth consecutive increase in home prices nationally on a year-over-year basis.
On a month-over-month basis, including distressed sales, home prices decreased by 0.2 percent in October 2012 from the month before. Decreases in month-over-month home prices are expected as the housing market enters the off-season. The Home Price Index (HPI) analysis from CoreLogic shows that all but five states are experiencing year-over-year price gains.
More improvement expected
Looking ahead, the CoreLogic Pending HPI indicates that November 2012 home prices, including distressed sales, are expected to rise by 7.1 percent on a year-over-year basis from November 2011 and fall by 0.3 percent on a month-over-month basis from October 2012 as sales exhibit a seasonal slowdown going into the winter.
Home prices are likely rising in response to sharp drops in housing inventory nationwide and a reduced number of foreclosures and short sales heading to market. With fewer homes to choose from, there is more competition for available homes, giving sellers more leverage when it comes to price.
Since distressed properties usually sell at a significant discount, fewer foreclosures and short sales mean the overall average price goes up.
Gaining momentum
"The housing recovery that started earlier in 2012 continues to gain momentum ," said Mark Fleming, chief economist for CoreLogic. "The recovery is geographically broad-based with almost all markets experiencing some appreciation. Sand and energy states continue to experience the most robust appreciation and some judicial foreclosure states are even recording increasing prices."
Even so, some states are seeing bigger gains than others. For example, the five states with the highest home price appreciation were: Arizona (+21.3 percent), Hawaii (+13.2 percent), Idaho (+12.4 percent), Nevada (+12.4 percent) and North Dakota (+10.4 percent). All five, however, had seen sharp declines during the housing meltdown. In most cases, prices are still below where they were at their peak.
And homes in some states are still losing value. Including distressed sales, the five states with the greatest home price depreciation in October were: Illinois (-2.7 percent), Delaware (-2.7 percent), Rhode Island (-0.6 percent), New Jersey (-0.6 percent) and Alabama (-0.3 percent).
---