---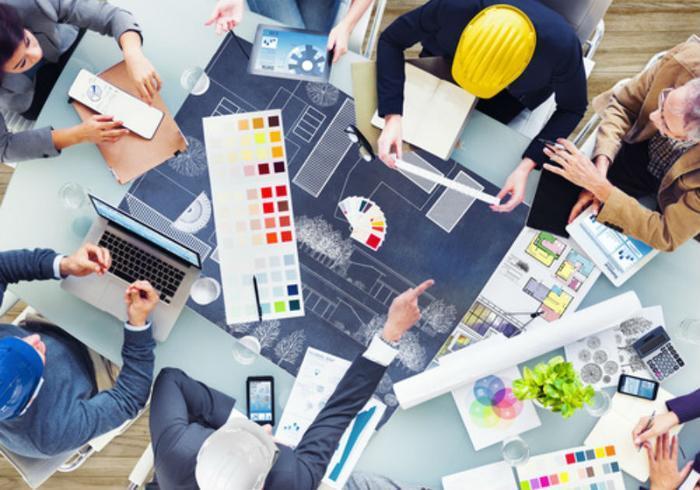 As 2016 draws to a close, consumers can start looking ahead at what's to come in 2017. Taking a peek into the future can be especially beneficial where home trends are concerned, as up-and-coming trends can give homeowners an idea of how to update their home in a way that's in line with the trends of tomorrow.
So what home trends are on the horizon? To find out, the experts at Houzz looked at user behavior data, popular photos, and articles, and talked to industry leaders. They found that 12 home design trends are circling the runway and preparing for landing in 2017.
Some of the home trends expected to make a splash in the coming year may surprise you. Houzz found that homeowners are rethinking beige, using graphic floor tiles to deliver visual impact, and giving their laundry rooms some much-needed love.
Color trends
Different colors can evoke different moods, which is why painting a room can be so transformative. Houzz found that homeowners and decorators are shaking up their color palettes in order to achieve different moods in various rooms.
Beige, for instance, is being tapped to give rooms a refreshed, modern look. A hum drum hue no longer, Houzz found that designers are starting to rethink beige-based neutrals. But one room in which you may not see neutral-colored walls? The bedroom.
While most homeowners strive for a calm and cozy feeling in their bedroom by rolling on the blue, gray, or yellow paint, a recent survey found that intimate or romantic is the third-most desired atmosphere for a master bedroom after calm and cozy. Colors like raspberry pink, deep ruby red, caramel, and even black will be used in 2017 to achieve this mood.
Trendy accessories
Like jewelry, accessories can help showcase a homeowner's personality. Adding fun accessories, unique seating, and other unexpected touches can imbue a home with a feeling of warmth and life. Here are a few accessories that are poised to have a big year, according to Houzz.
Playful bedside pendant lights. Homeowners and designers and giving boring table lamps the boot in favor of hanging pendant lights, which help free up bedside space for nightstand essentials.
Modern barstools. In the kitchen, contemporary counter seating will work alongside cabinet hardware and faucets to help homeowners achieve the stylish look they're after.
Graphic floor tiles. For homeowners lacking the space for a standout backsplash, graphic floor tiles may be just the solution. Having bold statement tiles on the floor, rather than on the walls, can help keep the kitchen feeling airy and open.
Hanging chairs. Hanging chairs aren't new on the scene, but they are popping up more lately. Houzz is seeing hanging chairs used in rooms other than living rooms to provide an extra seat with a fun statement.
Laundry room splurges
Shouldn't laundry be done in a space that makes you feel good? More homeowners seem to think so. Laundry rooms have been getting more love recently, and Houzz notes that this trend will continue into 2017.
Homeowners are using design tricks to bring in more light and seeking out smart storage solutions to help improve the function of their laundry room.
---