---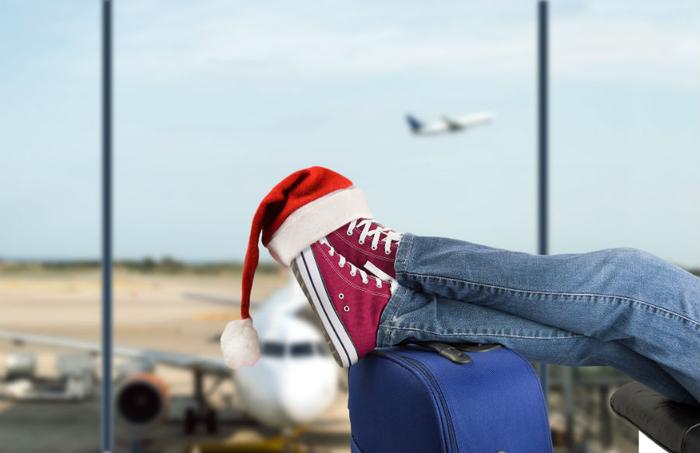 A record number of Americans are expected to travel over the holidays, according to AAA, with many at the mercy of unpredictable winter weather and unanticipated technical mishaps, like the one that struck Atlanta's Hartsfield-Jackson airport on Sunday.
The airport, one of the busiest in the nation, suffered a total power failure that prevented any planes from landing or taking off for hours. Power has now been restored, but airlines warn that residual effects could linger for days.
In a statement, Delta Airlines said it cancelled 1,000 flights on Sunday and has already scratched 300 from today's scheduled flights.
Weather could also be an issue for travelers later in the week. AccuWeather predicts a pattern of rain, sleet, and snow across the middle portion of the nation by midweek, stretching from Texas to Maine.
Making things even more uncertain, a huge number of travelers will be trying to get somewhere during the holidays. More than 107 million Americans are expected to travel by air, rail, or car from Dec. 23 through Jan. 1, according to the AAA forecast.
If that proves to be the case, it could be a record for the holiday period and a 3.1 percent increase over last year.
Most of holiday travel will be by car
While airports will be more crowded than usual, AAA expects most travelers will be on the nation's highways.
AAA used INRIX, a global transportation analytics company, to estimate that 97.4 million Americans will be traveling by car, leading to longer-than-normal travel time due to traffic volume. Slightly lower gasoline prices, however, may ease some of that pain.
Patrick DeHaan, senior petroleum analyst at Gasbuddy, expects to see fuel prices ease slightly during the holiday period, helped by downward pressure on oil prices. But motorists in some areas of the country may encounter price volatility.
"The Great Lakes -- Michigan, Indiana, Ohio, Kentucky, Illinois -- all generally see large movements both down and up, something we call price cycling, so they may get a pinch or two before the end of the year as that constant cycle plays out," DeHaan told ConsumerAffairs.
Falling gasoline demand
DeHaan also says overall gasoline demand has finally weakened after a strong early Autumn. That, he says, is finally allowing gasoline inventories to recover after hurricane season.
A recent Energy Information Administration (EIA) report showed nationwide gasoline stocks have grown in each of the past five weeks – a new trend for the year that bodes well for motorists. Over this time period, the report found gasoline stocks increased by roughly 17 million barrels, with 5.7 million barrels accumulating in just the previous week.
AAA's Fuel Gauge Survey shows the national average price of regular gas is around $2.43 a gallon, down three cents from a week ago and 12 cents lower than a month ago. However, that price is still 20 cents a gallon higher than this time last year.
Holiday travelers will find the cheapest gasoline at stations in Missouri, where the current statewide average for regular is around $2.17 a gallon. The most expensive gas in the continental U.S. is in California, where the statewide average is around $3.09 a gallon.
INRIX predicts the busiest days on U.S. highways will be Wednesday, Dec. 20 and Thursday, Dec. 21 and will occur in major urban areas, where holiday travelers will mix with normal commuter traffic.
Thanks
Keep an eye on your inbox, the lastest consumer news is on it's way!
Unsubscribe easily whenever you want
---