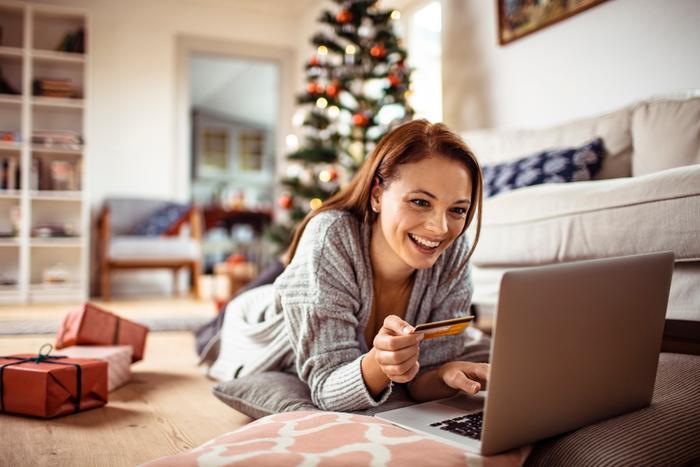 The COVID-19 pandemic appears to be affecting the holiday shopping season. 
A new study from the National Retail Foundation (NRF) shows that the average U.S. shopper spent 14 percent less this year at physical stores than in 2019 from Thanksgiving Day through Cyber Monday.
However, on the flip side, Black Friday and Saturday saw substantial growth in online activity. For the first time ever, the number of online Black Friday shoppers eclipsed the 100 million mark, up 8 percent over last year. The online shoppers were even more aggressive on Saturday, shooting up 17 points compared with last year. 
Overall, online-only shoppers increased by 44 percent for the entire weekend, for a total of 95.7 million.
Consumers are buying earlier
With more people shopping online and the threat of the pandemic still peaking in early fall, some retailers decided to roll their deals out earlier so that they had additional time to make course corrections if needed. Some examples included moves made by Best Buy, Target, and Walmart, which all offered Black Friday prices at the same time as Amazon Prime Day in mid-October.
The NRF said that motivated 52 percent of holiday shoppers to take advantage of early holiday sales and promotions this year. Of those who did, 38 percent said they checked off holiday purchases in the week leading up to Thanksgiving. Fifty-three percent felt that promotions over the Thanksgiving weekend were pretty much the same as they had been earlier in the season.
Watch out for "Green Monday"
There's still a couple of weeks before Santa comes, and retailers aren't ready to put their carrots and sticks back in the closet quite yet.
It may come as a surprise, but there's something called "Green Monday" that experts say is the second-best day for online holiday deals. It's also the biggest online shopping day in all of December. 
Green Monday falls on the second Monday of the month, which would check in this year on December 14 — or 10 shipping days before Christmas. Walmart, Target, and Amazon are all gearing up for Green Monday, and the competition is expected to be fierce.
"Green Monday is receiving more competition from sales extended through Cyber Week," said TheBalance's Kimberly Amadeo. "With Amazon Prime and other services, shoppers can wait until closer to Christmas to buy online and have their purchases arrive on time. But Green Monday is still a good bargain, with retailers offering substantial discounts from regular prices."
For you useless information hounds, "Green Monday'' gets its name from eBay. In 2007, the site experienced one of its biggest sales days on the second Monday of December. In honor of that rolling-in-the-green milestone, it gave the day its now colorful name.