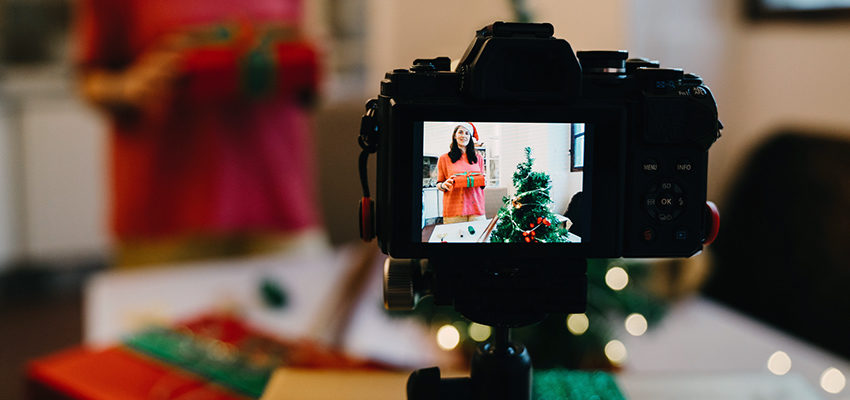 We know how difficult buying presents for techies can be, so we're here with some guidance. Read on to find some gadgets that are sure to impress the cool kids on the block (or the family group chat). We hope this helps you cross a few names off your "nice" list.
1. Spectacles 3D Camera Glasses
It sounds like something from a spy movie, but these 3D camera glasses are the real deal and incredibly cool. This wearable gadget takes pictures and videos with the tap of a tiny, discreet button. You can upload content directly to Snapchat or export it later. The package includes a 3D viewer, charging case, charging cable and cleaning cloth.
2. Bluetooth Headphone Beanie
Bluetooth beanies are functional for outdoor runs or indoor jam sessions and perfect for the person who never wants to take their headphones out. We like that the one below lasts up to 20 hours between charges.
3. Rocketbook Reusable Notebook
The Rocketbook isn't a typical journal — the pages are made of synthetic paper you write on with a stylus. Upload the notes and doodles to the cloud for storage and wipe it clean for a whole new round of journaling.
4. Osmo Pocket Gimbal Stabilizer
A pocket gimbal stabilizer is a thoughtful holiday gift for someone who loves recording videos but doesn't have the latest iPhone. It's compact and can be paired with just about any smartphone. Our guess is your techie will start using the device immediately.
5. Magnetic Levitating Globe
This gift is one we recommend purely for its cool factor. At an affordable price, you really can't go wrong with this globe that floats midair. Ideal for an office or shelf, this gadget is perfect if you have no idea what to give someone for the holidays. Be sure whoever gets it reads the setup instructions carefully, though, or the globe won't work correctly. Other than that, this MOKOQI globe is a seriously cool tech gift.
6. Mavic Air 2 Drone Quadcopter
If you want to give your tech lover an awe-inspiring gift, we recommend this sleek drone quadcopter. Its features include obstacle-sensing technology that ensures safe and impressive flights.
7. Electric bike (for adults)
The Ancheer Electric Mountain Bike has three modes for throttle-assisted, pedal-assisted and normal biking. The mountain e-bike has a removable, rechargeable battery and an LED display. With front and rear disc brakes and 21 gear settings, the Ancheer can handle urban riding and trails.
8. Ring Video Doorbell Pro
This is a great gift for new homeowners and even those in apartments without a personal security system. The device lets you see who's at the door and features two-way voice technology. It's ideal for anyone wanting a little extra protection at home.
Shopping for holiday gifts doesn't have to be as hard as it was last year — this year, you can use our handy guides to find the perfect gifts for your family and friends. With only a click of a few buttons, you can check off the wish lists of all your loved ones. Keep up with the latest on shopping news for more.