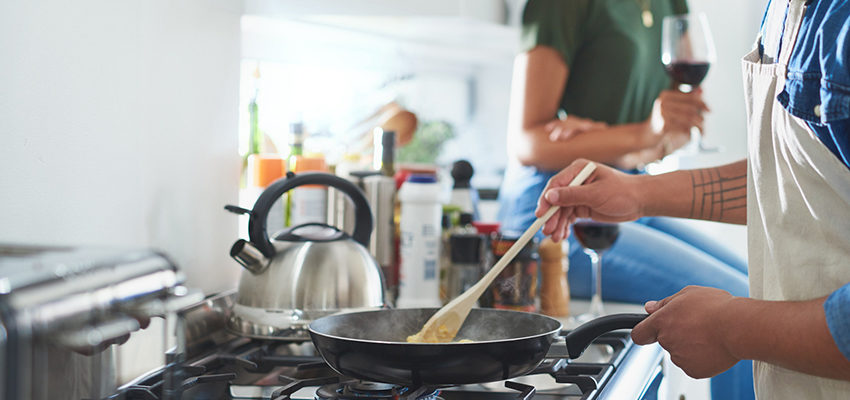 The home chef in your life likely has a specialty cuisine they love, whether it's covered in bacon, totally vegan or somewhere in between. No matter their culinary preferences, there's sure to be a gift that suits them on our list.
1. Anova Sous Vide Nano Precision Cooker
The best part about getting a sous vide for the home chef in your life is you might get a thank-you meal out of it. A sous vide (pronounced "soo-veed") precisely controls cooking temperatures, resulting in restaurant-quality meats, eggs and root vegetables.
This one is compact and highly rated by Target customers. It connects to your phone, letting you start, stop and monitor your cooking through its Anova Culinary app. The app also comes with more than 1,000 recipes to help with inspiration.
2. Island Bamboo Utensil Set
Perfect for your funky friend who loves nothing more than some color in their kitchen, this four-piece pakkawood set comes with a spoon, slotted spoon, corner spoon and spatula, all featuring a peacock pattern with swirls of blue, green and yellow. The utensils' ergonomic handles are designed for comfort.
3. NuWave Air Fryer
Air fryers have become increasingly popular over the years as an alternative to deep-frying, sauteing, baking or grilling. You can load up this 4.5-quart air fryer with bacon, cookies, diced potatoes and more. It can bake, roast or fry your food using no unhealthy oils — the perfect gift for a more health-conscious home chef who loves alternative ways of preparing the most comforting meals.
4. Stainless Steel Electric Meat Grinder
If you need a practical gift for the meat lover in your life, this electric grinder is an excellent addition to any carnivore's kitchen. Its heavy-duty stainless steel construction looks both classy and powerful, and not only does it help you create your own sausage and grind meat — you can also use it to make noodles.
5. Powell Raeford Kitchen Island
What does a cook love more than expansive open counters and plenty of cabinet space? If you're looking for a big gift for your home chef, you might want to consider counter space. It's a bit pricier than the other gifts we list here, but it's sure to help a kitchen look more chef-worthy.
6. Solid Copper Polenta Pan
A classy gift for any cook who likes to dabble in fine cuisine, this fancy copper pan is specifically designed to make polenta, which originated in Northern Italy and is made from cornmeal and other grains. It comes with a wooden handle reminiscent of old-world kitchens and wood-fired stoves.
7. Potato Cooker Pouches
This is a practical stocking stuffer for those who like to cook but don't have much free time. The fun little pouch lets you cook a potato in only four minutes. Though some of us might be satisfied with its basic use, home chefs will likely take it a step further to prepare some more creative dishes.
The holidays are supposed to be the most wonderful time of the year, but often this season becomes the most stressful part of the year. It can be hard to pick the perfect gifts for our friends and our family — but from proud pet parents to tech lovers, there's an outstanding gift out there for everyone.