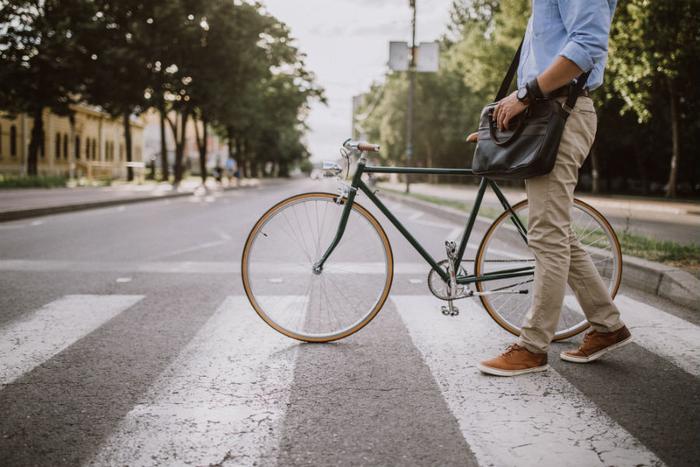 The number of fatal hit-and-run motor vehicle fatalities has risen significantly as more Americans choose to bike or walk to work.
Hit-and-run fatalities saw a 62 percent increase from 2009 to 2016, according to a report from the AAA Foundation for Traffic Safety. Pedestrians and bicyclists accounted for almost 70 percent of the victims.  
"Hit-and-run crashes in the United States are trending in the wrong direction," said Dr. David Yang, executive director of the AAA Foundation for Traffic Safety.
Highest number on record
The number of cyclists commuting to work rose 40 percent from 2006 to 2016, according to Census records. As the number of cyclists and pedestrians on the streets grows, so has the number of fatal motor vehicle collisions.
Almost 2,000 fatal hit-and-run crashes occured in 2016, making it the "deadliest" year since the National Highway Traffic Safety Administration (NHTSA) began collecting data on fatal motor vehicle crashes in 1975.
The analysis revealed that a majority of fatal hit-and-run collisions were pedestrians or cyclists. Almost 20 percent of all pedestrian deaths over the last decade were caused by hit-and-run crashes, compared to 1 percent of driver fatalities.
Avoiding crashes
The study's authors said they hope these new statistics serve as a wake-up call for drivers and that they underscore the importance of being alert on the road.
To avoid being involved in a crash with a pedestrian or cyclist, AAA recommends that drivers be aware of their surroundings, yield to pedestrians even if they're not crossing at a designated crosswalk, and give cyclists plenty of space when passing them on the road.
Drivers should also look out for small children and be especially alert in areas such as school zones, playgrounds, bus stops, and intersections.
If a collision with a pedestrian or cyclist does occur, drivers are advised to stay on the scene because the penalties for fleeing are "significantly" more severe, regardless of who caused the crash.