---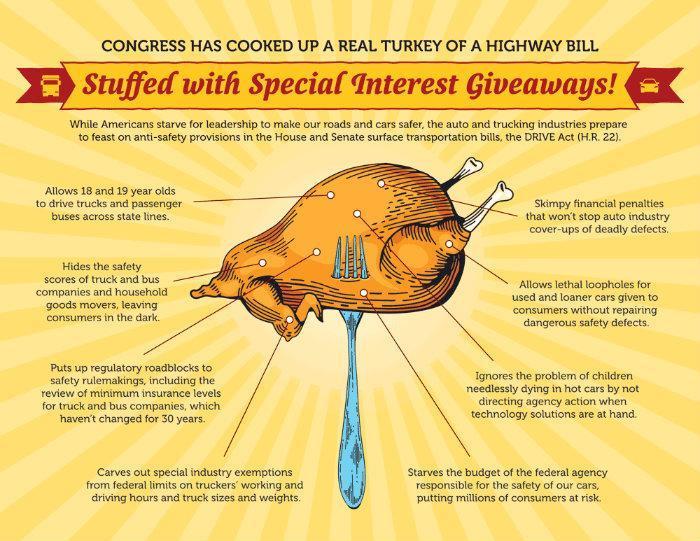 For months, there've been fears that Congress would fail to pass a new highway spending bill. Now there are fears that it will pass a deeply flawed measure that's loaded with industry givebacks and safety loopholes.
The legislation in question -- the DRIVE Act, H.R. 22 -- has passed the House and Senate and a conference committee is now working out differences between the two verions of the bill, providing a speedy on-ramp for all kinds of last-minute tomfoolery.
For example, both versions of the bill include a provision being heavily lobbied by the trucking industry. It would allow teen truck and bus drivers to get behind the wheel of an 80,000-pound big rig or passenger-carrying bus despite polls showing overwhelming public opposition. One such poll, conducted by ORC International, found 77% of the public opposes the provision.
Another industry favorite would allow car dealerships to provide loaner or rental cars to consumers even though they have safety recalls that have not been fixed. Car dealers have argued that it would be too expensive and time-consuming to perform all safety recalls and have claimed that some recalls aren't really safety-related.
Driving hours
Other provisions hotly contested by safty groups would provide exemptions from federal rules on the limits of working hours for truck drivers and truck size and weights for certain industries such as logging, ready-mix concrete, dairy, and construction materials.  
"It is time for Congress to get serious about reducing the growing carnage on our roads and highways especially when we have commonsense and cost-effective solutions at hand," said Catherine Chase of Advocates for Highway and Auto Safety. "Congress needs to listen to the public, not to trucking and auto interests that prescribe remedies that jeopardize public safety."
---