---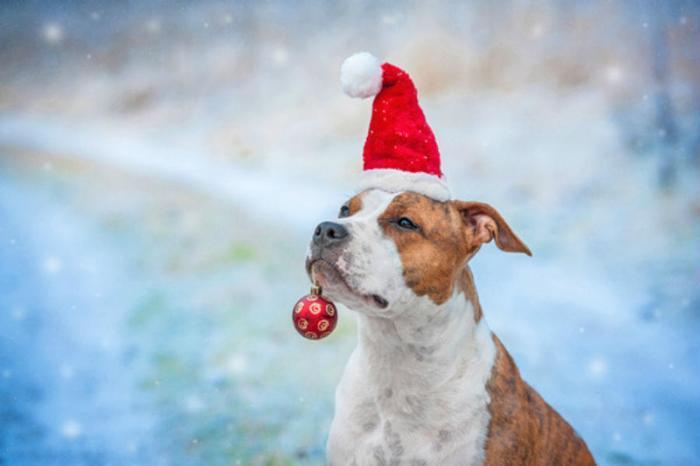 It's a busy time of year. Between shopping for gifts and hanging the garland, it's easy to forget that not all of our holiday rituals are safe for our four-legged companions. For all the tips you need to make sure your dog stays safe this season, the pet experts at DogVacay have you covered.
Christmas trees
Christmas trees can tip easily, so be sure to avoid positioning yours in front of Fido's favorite lookout window. Placing your tree next to a wall and securing it with fishing line will help ensure that you won't return home to a toppled tree all because somebody saw a squirrel outside.
It is also important to be mindful of the fact that, in your pup's eyes, there is a water bowl underneath your tree. Christmas tree water can harbor harmful pesticides, bacteria, and preservatives containing dangerous ingredients such as aspirin. To reduce the risk of your dog lapping up these chemicals, use a tree skirt or towel to cover the tree stand – and when you can't provide supervision around the tree, consider blocking access with baby gates.
Dangerous decor
Keen noses and unrelenting curiosity both work against your furry friend when it comes to holiday decorations. Avoid hazardous-if-swallowed décor such as tinsel, angel hair, and artificial snow.
Keep candles away from wagging tails and Christmas light cords (which may be tempting to chew) out of paws-reach.
Holiday plant life can also pose a threat to dogs: mistletoe and poinsettia, if ingested, can cause difficulty breathing, low heart rate, vomiting, or upset stomach.
Cold temperatures
If you're cold enough to go inside, chances are your dog is too. When the mercury drops, bring outdoor pets in. If they must stay outside, it's a smart idea to invest in a heated outdoor shelter with plenty of dry bedding to protect them from the elements.
Swap metal water bowls for plastic ones during winter to make sure pets won't get their tongues stuck – and be sure to watch for freezing water. Animals that don't have access to clean, unfrozen water are more likely to drink out of puddles or gutters which can be polluted with oil, antifreeze, household cleaners, and other chemicals.
Finally, pour in some extra kibble at mealtimes. Outdoor dogs need the additional caloric boost to help them keep warm.
Chemicals on the sidewalk
Pets that go outside can pick up rock salt, ice, and chemical ice melts in their foot pads. To keep your pet's pads from getting chapped and raw, wipe its feet with a washcloth when it comes inside. This will also keep it from licking the salt off its feet, which could cause an inflammation of its digestive tract.
Applying petroleum jelly to your pup's paws before heading out can also help protect against irritating salt and chemicals.
---