---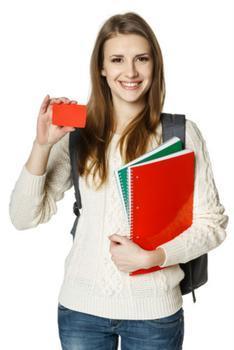 With college students heading back to campus, parents may be considering whether a son or daughter should have a credit card.
Having one could provide some peace of mind, in case of an emergency expense. On the other hand, a credit card can quickly bury a student in debt if used irresponsibly.
With responsible use, a credit card can not only be a helpful convenience, it can help a student begin building a positive credit history. The question, then, is what's the best card for a college student?
Discover It Chrome for Students
According to CreditCards.com, it's the Discover It Chrome for Students card. The card comparison site was impressed by the card's generous cash back program and perks available to students. One impressive feature is a $20 cash bonus reward when the student maintains a 3.0 grade point average.
Finishing second in the judging is the Wells Fargo Cash Back College Visa. It earned points for a low interest rate and free budgeting tools.
The BankAmericard Cash Rewards Credit Card finished third. It impressed the judges with a significant cash back reward program.
WalletHub's picks
Personal finance site WalletHub has also picked its choices for best student credit cards. Number one on its list is the Journey Student Rewards Card from Capital One. It provides 1.25% cash back on all purchases when you pay your bill on time each month, a financial incentive for students to stay on top of their account. CardHub notes that's more than what's offered by the average cash back credit card for people with excellent credit.
As a runner-up, CardHub recommends the BankAmericard Cash Rewards for Students Card. It offers nice rewards in expense categories that are widely used by students. It gives you 3% cash back on gas and 2% at grocery stores and wholesale clubs for the first $2,500 in combined quarterly purchases. Everything else draws a 1% cash reward.
Responsible use
One provision of the 2009 CARD Act is new limits on how credit card companies market to college students. Prior to the legislation, students were often signed up for subprime cards at campus social events and got no guidance on the proper way to use credit.
For students obtaining a credit card, a few ground rules may be in order. There should be firm spending limits in place and agreement on how the card will be used. Charging books and supplies and trips home might be fine. Meals at bars and restaurants might not be.
Students encounter enough debt just paying for books and tuition. They shouldn't add to it by running up large credit card balances. And in that regard, there is some encouraging news.
Credit agency Equifax has reported that its survey of college students found that 70% have one or more credit cards. Of that group, 72% said they pay their balance in full each month.
---