---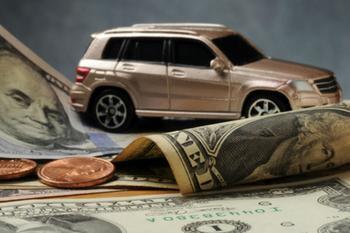 Car dealers across America will be dominating the TV airwaves this weekend with their "Labor Day Weekend Blowout" sales. Indeed, it's not a bad time to go kick some tires.
The holiday weekend coincides with the traditional end of the model year for most carmakers. They are, in fact, trying to make room for the 2017 models.
But let's be clear. They aren't exactly giving away the 2016s. Still, automotive site Edmunds.com has identified a number of 2016s where you should be able to negotiate a good deal.
What these cars all have in common is the model is about to be phased out or dramatically redesigned. Yes, that might also hurt the car's resale value, but if you are looking for a lower entry point on a new car, Edmunds says these five models are definitely worth a look.
2016 Mercedes-Benz E-Class Sedan
Bargains on luxury cars are rare, but the E-Class sedan has been redesigned for 2017. Edmunds says buyers should find this car at $7,000 to $10,000 less than it normally goes for. The model earned an A rating from Edmund's editors in 2015.
2016 Hyundai Genesis Sedan
For 2017, this car is being rebranded as the Genesis G80. Edmunds gives the Genesis a high rating, as it delivers luxury at a lower price. Now the price is even lower. Edmunds reports it has seen the car going for discounts of more than $5,000.
2016 Buick LaCrosse
The LaCrosse underwent a redesign for 2017, but dealers still have plenty of 2016 models. It's a comfortable, entry-level, full-size sedan with lots of options. Edmunds says buyers of the 2016s are seeing discounts of $6,000 or more.
2016 Cadillac SRX
Cadillac is changing the name of the SRX to XT5, making some other changes to its luxury SUV along the way. As a result, consumers may find some deals on the leftover 2016s. Edmunds says the the discount should amount to around $8,000.
2016 Subaru Impreza Sedan
Here's another redesign that creates some potential deals on the current model. But don't expect the dramatic savings you find on the above models. Subaru generally is a popular brand with less of a profit margin than competing models. That said, Edmunds says buyers should be able to get around $1,000 off the MSRP.
"Even though these vehicles are being redesigned or going away altogether, they still have the same great technology and performance that you'd find in most new cars, but at a much better value," said Edmunds.com Senior Consumer Advice Editor Ron Montoya.
Montoya also advises consumers interested in one of these bargains to act quickly. The selection is expected to dwindle, especially after this weekend.
---