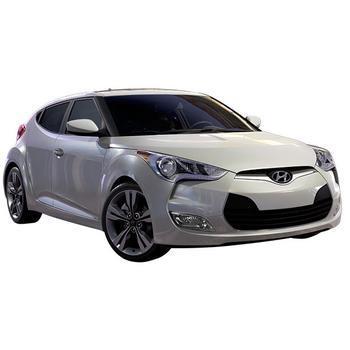 Consumers spend an increasing amount of money on new cars, requiring them to take on payments that tax their monthly budgets and extend terms out to six or seven years in some cases.
The average transaction price (ATP) on a new car is consistently around $34,000. But there are plenty of good new cars that cost a lot less.
Kelley Blue Book has highlighted five models that are not only well below the ATP, but happen to have attractive incentives this month.
Hyundai Veloster
This month KBB says you can purchase a 2016 Hyundai Veloster for $17,530, the KBB Fair Purchase Price. That's about half the recent ATP, but it gets even better. According to KBB, Hyundai is offering $4,000 cash back to qualified buyers.
Assuming you used the $4,000 as the down payment and financed $13,530 for four years at 3.5%, the monthly payment would be $302.
Jeep Cherokee
At the higher end, but still below the average, is the Jeep Cherokee SUV. Kelley says it can be purchased this month for $25,446 and it comes with $5,000 cash back.
Again, using the cash back for a down payment, you would finance $20,446 for five years, with a monthly payment of around $372.
Kia Forte
The Kia Forte is going this month for around $17,085 and comes with $2,500 cash back. Using the cash as the down payment, you would finance $14,585.
That should give you a monthly payment of around $326, if financed for just four years.
Hyundai Sonata
There is also an attractive deal on the mid-size Hyundai Sonata in June. The KBB Fair Purchase Price is $21,363, with $3,350 cash back.
Applying the cash as a down payment, you would be financing $18,013, with a monthly payment of around $328, if financed for five years.
Ford Escape
KBB's Fair Purchase Price on the Ford Escape small SUV this month is $24,746, a deal that also comes with $3,900 cash back.
Using our same formula, the amount to be financed would be $20,846. On a five year loan the payment would be $379.
In all five deals, the payments extend no longer than five years and none are over $400.
"With many of these offers available through the Fourth of July holiday weekend, this month's list of standout deals provides an even longer opportunity for shoppers to get into the car that best fits their needs," said Jack Nerad, executive editorial director and executive market analyst for Kelley Blue Book's KBB.com.
Nerad also says there are some attractive lease deals this month as well, topped by the 2017 VW Jetta at $119 a month for 36 months. As always, these deals are for buyers with good credit. A lower credit score will mean higher interest rates.