---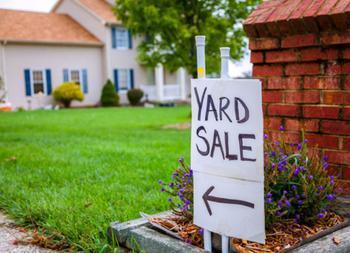 Spring is an ideal time to hold a garage sale. Sellers may have found themselves up to their ears in items accumulated over the winter, and buyers have been itching to get out of the house and snag some deals. It's a win-win.
But as anyone who has hosted a yard or garage sale can tell you, they can also be a lot of work. Before you find yourself sitting in the driveway waiting patiently for buyers, you'll probably have traversed the stairs to the attic many times, lugged heavy furniture, and logged your fair share of hours preparing.
With all that goes into a yard sale, you'll want to make sure you've done everything you can do make it a success. To help you get rid of as many unwanted items as possible, keep these expert suggestions in mind.
Advertise online
Spread the word. The old saying, "Build a better mousetrap and the world will beat a path to your door" does not hold for garage sales, says Jim Roberts, Ph.D., The Ben H. Williams Professor of Marketing in Baylor's Hankamer School of Business.
Let others in your area know where and when your sale will be and what items will be up for grabs. Advertising your sale in newspapers is fine, says Roberts, but online marketing is hard to beat.
In the weeks before the sale, post pictures, directions, and sale times on such sites as Craigslist, www.gsalr.com, www.yardsales.net, and www.garagesalefinder.com. (A note on posting photos: keep in mind that it's often better to take individual pictures of your best stuff rather than indiscernible photos of cluttered tables.)
Price your items
Use the week leading up to the sale to clean items, check electronics, and make sure all items are priced. Many shoppers will avoid buying an item if it's not clearly priced.
"I make my buying decisions based on the price and do not like asking the owner how much things cost," says Luci of Richmond, VA, who has staged dozens of yard sales over three decades. "If you don't have the time or desire to price your items, don't have a sale."
When deciding how much an item should cost, it's important to remember that items are used -- so price accordingly. Ten cents on the dollar is a good guide, suggests Luci. "Overprice and you will find yourself donating all the unsold items or worse, taking everything back in your house."
Day of the sale
Some other tips to keep in mind on sale day: 
Set up early. The "Early Birds" will arrive before the sale's advertised start time to get the good stuff.

Group items by category -- kitchen items, linens, books, toys, etc. A well-organized sale gives the impression that items are a good deal.

Be sure to have plenty of dollar bills and quarters to make change.

Remove all your signs when the sale is over.
---