---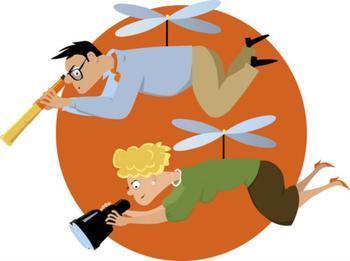 Making sure a child grows up in a safe and supportive environment is of the utmost importance to many parents. But oftentimes, the need to protect and nurture our young can be taken too far. When this happens, parents can become too controlling or overly involved -- not allowing their children any freedom to grow and learn on their own. This is often referred to as "helicopter parenting."
While the actions of these kinds of parents might come with the best of intentions, new research concludes that it might actually be detrimental in the long-run. A study conducted at Florida State University (FSU) shows helicopter parenting can lead to feelings of inadequacy and depression for young people entering into adulthood.
"Helicopter parents are parents who are overly involved. . . They mean everything with good intentions, but it often goes beyond supportive to intervening in in the decisions of emerging adults," said Kayla Reed, a doctoral student at FSU.
Parental involvement
For the purposes of the study, researchers surveyed over 460 college students between the ages of 18 and 25 to gauge how involved their mothers were in life decisions; the researchers focused primarily on mothers because, traditionally, they act as primary care givers.
Additionally, the students were asked to self-assess their own ability to handle difficult situations, as well as factors like depression, life satisfaction, anxiety, and physical health.
Participants were asked how their mothers would respond to various hypothetical situations. For example, they asked how mothers of participants would react to knowing that their child was having a fight with a roommate.
Responses varied, with some mothers encouraging their children to resolve the conflict on their own and others taking a direct hand and talking to the roommate themselves.
Lower self-efficacy and life satisfaction
After analyzing responses from each participant, the researchers found that those who reported higher levels of autonomy from their parents also said they had greater life satisfaction, better physical health, and more confidence in their own self-efficacy.
On the flip side, children of helicopter parents were more likely to report low levels of life satisfaction and self-efficacy, as well as higher levels of anxiety and depression. Physical health was also generally worse for these young adults.
"The way your parents interact with you has a lot to do with how you view yourself. . . If parents are simply being supportive, they are saying things like 'you can manage your finances, you can pick out your classes.' It changes if they are doing that all for you," said Mallory Lucier-Greer, assistant professor of Family and Child Sciences at FSU.
"I think there are good intentions behind these helicopter behaviors, but at the end of the day you need to foster your child's development," she concludes.
The full study has been published in the Journal of Child and Family Studies.
---