---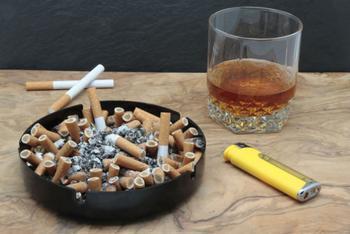 It seems that consumers who are trying to kick a smoking habit would do well to stop drinking while they're at it. That's one conclusion that an international research team has come to after investigating the connection between the two vices.
The team, which was led by researchers from the Roswell Park Cancer Institute, conducted a study which found that heavy alcohol consumption increases the rate of nicotine metabolism, which makes it much harder to quit. However, after smokers stopped drinking, their nicotine metabolism declined significantly.
These findings suggest that lowering nicotine metabolism could be integral towards helping smokers quit, and it may also explain why it has been so difficult for some people to quit in the past.
"It is an important finding since a faster rate of nicotine metabolism was previously found to be associated with smoking more cigarettes per day, greater nicotine withdrawal symptoms and decreased efficacy of nicotine replacement therapy for smoking cessation," said Dr. Maciej Goniewicz, senior author of the study.
Essential for future strategies
The researchers came to their conclusions after studying patients at an alcohol dependence program in Parzmiechy, Poland. Nicotine biomarkers were assessed for a random selection of 22 participants, after which each stopped drinking for a period of seven weeks.
The data showed that nicotine metabolism normalized in these patients by the fourth week of the trial period, meaning that their decreased odds of quitting had evened out by this time. According to the researchers, this finding could be essential towards developing future prevention strategies for smokers.
"Understanding changes in nicotine metabolism associated with chronic alcohol abuse and recovery during alcohol abstinence could have important implications for understanding smoking behavior and improving smoking cessation interventions for current and former heavy alcohol drinkers," said co-author Neal Benowitz.
The full study has been published in the journal Drug and Alcohol Dependence.
---