---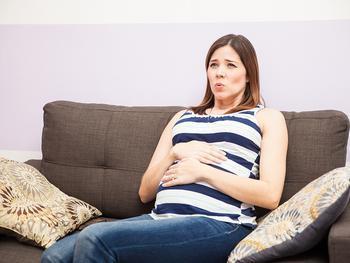 Heartburn is just one of the many symptoms you can you expect when you're expecting. During pregnancy, acidic digestive acids tend to splash back up as a result of hormonal changes and pressure on the stomach from a growing uterus.
Nearly half of expectant mothers experience the uncomfortable, chest-focused burning sensation throughout their pregnancy. Heartburn medication may ease the discomfort, but could it have a negative effect on a womb's occupant?
New research suggests that children born to mothers who take heartburn medication during pregnancy may have a greater risk of developing asthma. The potential association was uncovered following a review of eight previous studies involving more than 1.3 million children.
One third more likely
Experts say the link isn't conclusive, and moms-to-be should continue using heartburn medicines as recommended by their doctors. Further research will help determine whether the pills affect the health of children or if the association is caused by a separate, linked factor.
Nevertheless, researchers found that children born to mothers who had been prescribed acid-suppressing drugs during pregnancy were at least one third more likely to have visited a doctor for symptoms of asthma. 
"We don't yet know if the heartburn medication itself is contributing to the development of asthma in children, or if there is common factor we haven't discovered yet that causes both heartburn in pregnant women and asthma in their children," said Dr. Samantha Walker, Director of Policy and Research at Asthma UK.
Jean Golding, an emeritus professor of pediatric epidemiology at the University of Bristol, says the heartburn itself, not the drugs used to treat it, may be the most important association. Other experts say obesity in the expectant mother could play a key role. 
More research needed
Acid-blocking drugs called H2-receptor antagonists and proton pump inhibitors have been considered safe to use in pregnancy because they do not affect the development of the baby. 
However, previous studies suggested that these drugs may impact the immune system of an unborn baby, leading to an increased risk of allergies. Subsequent studies to investigate the link were inconclusive, the researchers noted.
The new study, published in the Journal of Allergy and Clinical Immunology, was led by the Universities of Edinburgh and Tampere in Finland. The investigators stress that the research is still at an early stage.
"Expectant mums should continue to take any medication they need under the guidance of their doctor or nurse," Walker said, adding that the study "points us towards something that needs further investigation which is why we need to see more research carried out into the causes of asthma."
Thanks
Keep an eye on your inbox, the lastest consumer news is on it's way!
Unsubscribe easily whenever you want
---