---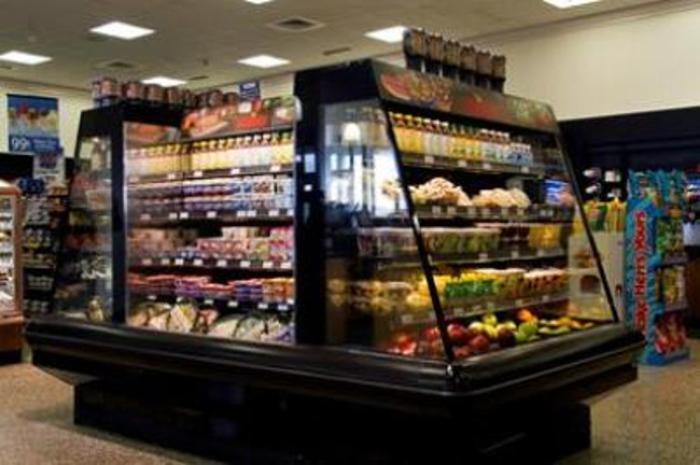 Convenience stores, like 7-Eleven, may not come to mind right away when you think of healthy eating. There's plenty of products on the stores' shelves that are packed with sugar, sodium and preservatives with unpronounceable names.
But in most 7-Elevens these days you'll also find ripe bananas right on the check-out counter, along with all the other impulse buys.
WaWa, an East Coast convenience store chain, not only has fresh fruit and yogurt in prominent displays but goes out of its way to promote nutrition.
Even the New Jersey Turnpike's snack shops are displaying fresh fruit, yogurt and packs of snack-sized vegetables.     
A new Cornell study suggests these measures might actually help American consumers eat a healthier diet. They found, for example, that keeping fruit in a bowl on a table or kitchen counter made it more likely to be eaten than if it were shoved in the bottom of the refrigerator.
The Cornell analysis of more than 100 studies that examined healthy eating patterns found that most people who consumed a healthy diet did so, in part, because a restaurant, grocery store, school cafeteria, or spouse made foods like fruits and vegetables visible and easy to reach, attractively displayed, appearing to be a normal choice.
Convenient, attractive and normal
"A healthy diet can be as easy as making the healthiest choice the most convenient, attractive, and normal," said Brian Wansink, Director of the Cornell Food and Brand Lab and author of the report.
It's the reverse of "out of sight, out of mind." When healthy food is kept in a consumer's line-of-sight, it seems more appealing.
The study found restaurants play a big role as well. When restaurants give the shrimp salad appetizer a fancy name, give it prominent space on the menu, and have the wait staff point it out as a special, it gets ordered more than the deep-fried onion rings on the back of the menu.
The consumer wins because it's healthier. The restaurant wins because the profit margin on shrimp salad is significantly higher than on onion rings.
Convenience appears to be a key factor. When a school district wanted to encourage children to drink more white milk than chocolate milk, it simply placed the white milk cooler in front of the one for chocolate in school cafeterias. It resulted in an increase in white milk consumption by as much as 60%.
"With these 3 principles, there are endless changes that can be made to lead people -- including ourselves -- to eat healthier," said Wansink.
More protein
In addition to eating more fruits and vegetables, University of Missouri (UM) Heather Leidy thinks consumers should be eating more protein than they are. Protein, she says, can support weight loss and prevent weight gain by boosting metabolism, increasing feelings of fullness and helping the body retain muscle while losing fat.
Leidy says not all proteins are created equal, however. She recommends protein found in animal-based foods such as beef, pork, poultry, fish, eggs and dairy products. Vegetables and grains can contain protein as well, but she says they are considered lower quality, or "incomplete," proteins because they lack one or more essential amino acids and are less digestible.
She also suggests getting much of your protein at breakfast – at least 30 grams.
"Most people eat enough protein in the evening," Leidy said. "Take whatever source of protein you ate for dinner - whether that's a steak or a pork chop - and eat it for breakfast along with Greek yogurt or include it in a pre-made breakfast casserole with eggs, which can easily get you to 30 grams of protein in the morning."  
---