---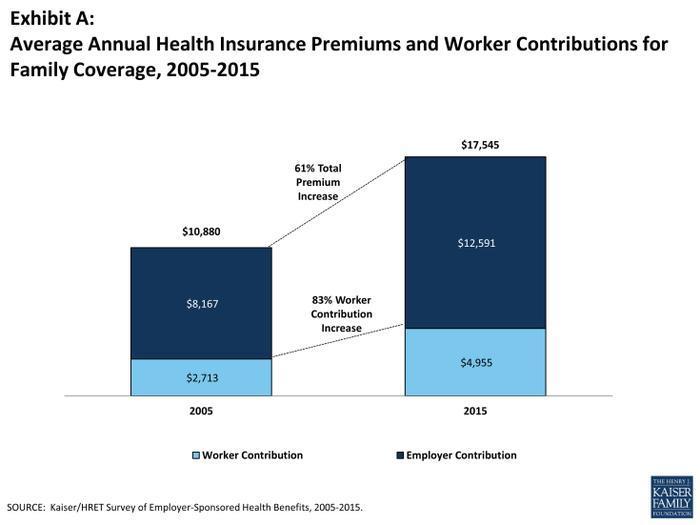 For any family or single person, paying for health benefits is a big expense. For those getting insurance coverage through work, the cost is sometimes obscured because it comes out of paychecks, along with taxes.
But the expense is there and rising, though not as fast as in the past. In the latest Kaiser Family Foundation/Health Research & Education Trust Employer Health Benefits Survey, auditors found single and family premiums for employer-sponsored health insurance rose an average of 4% this year, more than twice the rate of inflation.
Deductibles, meanwhile, have risen almost three times as fast as premiums and about seven times as fast as inflation. Here are the numbers:
The average annual premium for a single employee's coverage is $6,251, of which workers on average pay $1,071.
The average family premium is $17,545, with workers on average contributing $4,955.
Deductibles
But increasingly, insurance plans are there to cover the big things – a serious accident or a major illness. Routine medical care is often paid out of pocket since more employee-sponsored plans have deductibles – expenditures the policyholder is required to pay out pocket before the coverage kicks in.
The survey finds 81% of covered workers have plans with a general deductible they must meet each year, and the deductible is growing. This year the average deductible for a single covered person is $1,318. If the worker happens to work for a small firm, the deductible averages out to be $1,836.
In the last five years, both the share of workers with deductibles and the size of those deductibles have increased sharply, according to the survey. That makes for a 67% increase in deductibles since 2010, rising much faster than the increase in single premiums.
"With deductibles rising so much faster than premiums and wages, it's no surprise that consumers have not felt the slowdown in health spending," Foundation President and CEO Drew Altman said.
Not rising quite as fast
But at least the cost of coverage isn't rising as fast as it once did. Since 2005 premiums have increased an average of about 5% a year – or a total of 50%. Yes, that's a lot but premiums soared 11% per year from 1999 to 2005.
The survey also found that employees who enjoy attractive health benefits through work may need to prepare for an adjustment. A provision of the Affordable Care Act takes effect in 2018, putting an excise tax on expensive health care plans – sometimes called the "Cadillac tax."
The survey found that most large employers have already performed an internal audit to determine if they are affected. Gary Claxton, the lead author of the study, predicts affected companies will respond by shifting more of the cost of these expensive plans to employees.
---