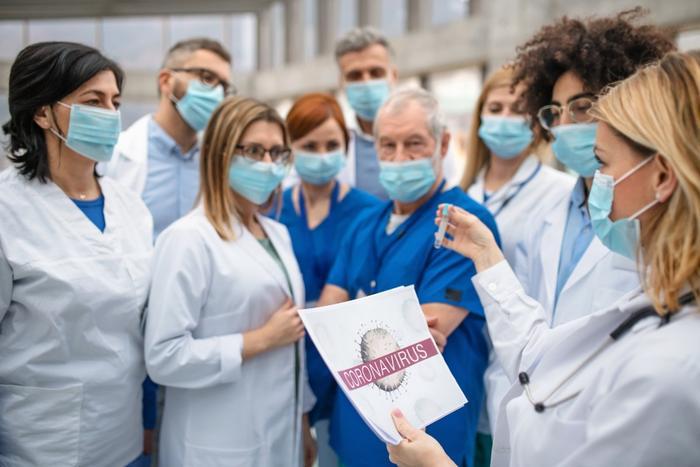 Consumers across the U.S. are being urged to practice social distancing as new cases of the coronavirus sweep across the nation. But staying isolated isn't an option for some workers, and it's putting them at a much higher risk of infection. 
A new study conducted at Rutgers shows that health care workers, in particular, have a much higher infection rate than other professionals. Researchers found that those who had a high amount of direct contact with multiple COVID-19 patients -- such as nurses -- were at the highest risk of infection. 
The team noted that as of November 15, over 216,000 U.S. health care workers had been infected with COVID-19. Of that number, they said that there were at least 799 deaths.
Identifying risk factors
Among different types of health care workers, the researchers found that those who worked in intensive care units were the least likely to be infected with COVID-19. While their findings weren't definitive, they speculated that this was due to greater use of personal protective equipment. 
While new cases of COVID-19 are sweeping across the U.S.,  and the nation's hospitals may soon be overburdened with an influx of new patients, the researchers say their work may help provide information on how transmission can be prevented among frontline workers.
"The baseline data reported here have helped us to monitor the spread of infection and examine risk factors for transmission among health care workers and others," said Daniel Horton, lead co-author of the study. "These findings and our ongoing follow-up of study participants have informed local strategies to protect the health care workforce, their families, and their patients."