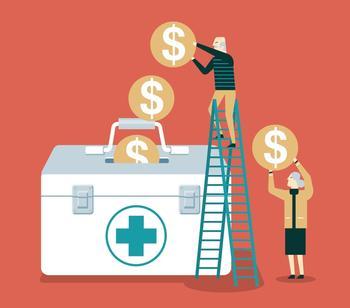 The rising cost of health care affects consumers of all ages, and the ambiguous -- and often lofty -- price tags associated with certain procedures or treatments can prevent patients from receiving the proper care that they need. 
Now, experts from West Health Institute, a group of nonprofits that works to reduce health care costs for older people, are exploring the rise in health care costs and trying to put initiatives in place that would lessen the financial burden of medical care for seniors. 
"Skyrocketing health care costs represent a significant and growing public health crisis that requires more action and less debate," said Shelley Lyford, president and CEO of West Health. "We can all agree that Americans are hurting, in some cases dying or going bankrupt, because of a broken system that costs too much and delivers too little. We can no longer delay or defer common sense reforms and better and more cost-effective models of care when the health and financial security of millions hang in the balance." 
Creating better policies and practices
While there are countless factors at play that influence the cost of seniors' health care, some of the top findings included at-home care, prescription drugs, and what stance employers take to maintain reasonable health care costs. 
Similarly, when trying to remedy these concerns, experts brainstormed several viable options for policymakers to implement, all of which would help keep health care costs down while providing seniors with the highest level of care. 
One article suggested creating geriatric emergency departments, which would ensure that older people are getting care tailored specifically to their needs. It would also reduce the number of emergency room visits, as trips to the ER can have a rather high price tag. 
The experts also wanted a more active role from employers, who often make the big decisions when it comes to health care coverage. If employers were more vocal about switching to value-based payment options, which put the financial burden on medical providers rather than on patients, it would save seniors a lot of money. 
Lowering costs
Lowering the cost of prescriptions would also help considerably, and West Health recommended that Medicare should work directly with drug companies to get the lowest prices for consumers. Though this would require legislative intervention, the end goal would greatly benefit the older demographic. 

"As the U.S. population ages, it is increasingly vital to support common sense steps that can reverse the runaway health care costs," said Robert Blancato. "Unless we advocates take bold actions now to lower health care costs, our nation's older adults cannot hope to successfully age in place in the communities they cherish." 
West Health, in partnership with the American Society on Aging, shared their full review on this subject, and even more suggestions, in a special issue of the Journal of the American Society of Aging. That review can be found here.