---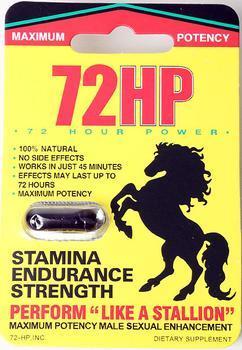 Hardmenstore.com is recalling 1000 lots of 72HP, Evil Root and Pro Power Max.
According to representatives of the Food and Drug Administration (FDA), the products have reportedly been found to contain amounts of the PDE-5 Inhibitor, sildenafil, which is the active ingredient in an FDA-approved drug for erectile dysfunction (ED). Sildenafil is not listed on the product labels.
These products are intended to be used as dietary and sexual supplements. 72HP is packaged in a single blister pack containing 1 dose. Evil Root is packaged in box containing a bottle of 6 pills. Pro Power Max is packaged in a single blister pack containing 1 dose.
All lots of the products are included in this recall. 72HP can be identified by the yellow packaging with a black horse insignia. Evil Root can be identified by its orange box with blue Chinese characters. Pro Power Max can be identified by the black and red packaging with flames on the bottom of the packaging.
Hardmenstore.com is now notifying its distributors and customers and is arranging for a return of all recalled products.
Consumers and retailers with the products should stop using them immediately and contact a doctor if there are any side effects.
Consumers with questions may contact Howard Andrew by email at info@hardmenstore.com from Monday to Friday, 11am to 5pm, EST.
---