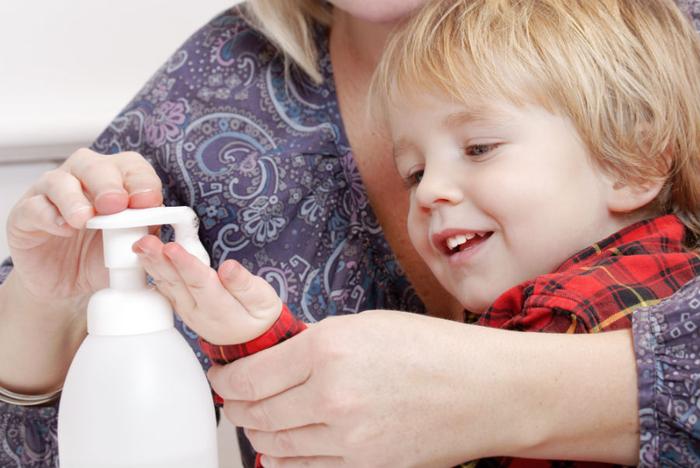 Hand sanitizer may be superior to hand washing when it comes to reducing sick days among young children in day care, a new study suggests.
Over the course of eight months, researchers in Spain studied the hand hygiene routines of more than 900 children aged 0-3 at two dozen day care centers.
The children were split into three groups: one group used hand sanitizer, one washed with soap and water, and the third group was given hand-washing advice at the beginning of the study but told to keep washing their hands the way they normally do.
By the end of the study period, respiratory infections had been the cause of 5,186 missed days at the day care centers. But children who had been educated about hand sanitizer had significantly fewer missed days of school, respiratory infections, and antibiotic prescriptions compared to kids in both of the other groups.
Children in the hand sanitizer group had 23 percent fewer respiratory infections -- as defined by the presence of symptoms like coughing, sneezing, congestion, and sore throat -- compared with kids in the third group. Kids in the soap-and-water group were 21 percent more likely to get an infection than those in the sanitizer group and 31 percent more likely to need antibiotics.
Respiratory infections common in day care centers
Respiratory infections have particularly serious risks to children younger than five, and the prevalence of these illnesses among children attending day care centers makes them a "major public health problem." These types of illnesses have also been linked with excessive antibiotic use, the researchers noted.
"There are studies in which researchers assess the impact of hand hygiene programs on infectious disease transmission reduction in schools and households," the research team, led by  Dr. Ernestina Azor-Martinez, wrote.
"However, there are few recent studies that reveal their effectiveness in day care centers, specifically, those in which researchers examine hand hygiene health education importance for day care staff and parents to reduce infection transmission in day care centers."
Adult supervision necessary
In an interview with CNN, Janet Haas, director of epidemiology at Lenox Hill Hospital in New York, said that although the study was conducted in Spain, its findings are applicable in other locations.
"There is a place for alcohol hand sanitizers, and the public may not be aware of how effective they can be," Haas said. "I think people still think of them as 'if you can't get to a sink, this is second best,' but in this study, it showed that it was better than the soap and water hand-washing for this group."
However, experts stress that adult supervision is crucial when allowing children to use hand sanitizer. "The caveat here is that you can't have little kids putting that in their mouth and possibly getting alcohol intoxication," Haas added.
The full study has been published in the journal Pediatrics.