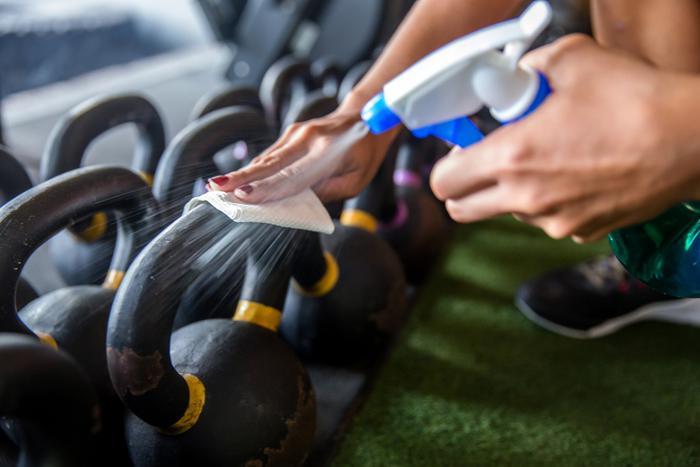 While researchers continue to warn consumers about the dangers associated with antibiotic resistant bacteria, a new study has discovered yet another place that these dangerous microbes could be lurking. 
According to researchers from the American Society for Microbiology, consumers are likely to come into contact with high levels of antibiotic-resistant bacteria at the gym; they found that shared gym equipment was a hotspot for these types of germs. 
"These results suggest regularly contacted surfaces in different recreational environments can harbor multi-drug resistant S. aureus (MDRSA) and should be disinfected frequently to best maintain public health and community well-being," said researcher Chase A. Weikel. 
Improving disinfecting efforts
To understand what kinds of bacteria live on shared gym equipment, the researchers studied samples taken from two university gyms. They analyzed samples from frequently used gym equipment that often sees lots of different hands and germs. The team said that the specific pieces of equipment they looked at aren't cleaned often unless gym-goers disinfect them themselves.
Overall, 45 different pieces of equipment were tested for traces of S. aureus. This type of bacteria can cause staph infections that often lead to serious health complications. 
The researchers learned that the equipment they tested contained large traces of antibiotic-resistant bacteria. Over 460 bacterial isolates were extracted from the equipment, and the study revealed that over 70 percent proved to be resistant to at least two types of antibiotics. Additionally, over 40 percent of the isolates were resistant to the penicillin family of antibiotics. 
As COVID-19 continues to spread, amping up disinfecting efforts is at the forefront of many consumers' minds. Gyms, which are shared public spaces, are no exception. Like Weikel explained, staying on top of sanitizing the equipment is key to ensuring that consumers can exercise without fear of contracting a life-threatening infection.