---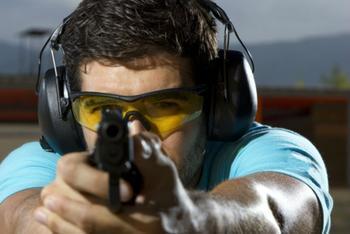 In the wake of the horrific massacre at an Orlando gay nightclub, Democrats in the Senate mounted a filibuster to force a vote on gun control legislation.
But in something of an irony, a dependable Democratic Party constituency was heading for gun shops to arm themselves. Media reports from around the country suggest gays and lesbians are buying guns and learning to use them in the wake of Sunday's deadly attack.
Fox 31 in Denver interviewed the owner of a gun shop who is among those welcoming new customers. The station also interviewed Mike Smith, who conducts firearms training courses, and who confirmed a sudden surge in gays and lesbians arming themselves.
"I think right now because of what happened, people are looking for answers," Smith told the station. "You walk into a gun shop and you expect to see people, frankly, who look like me. I think we forget we're a country of all people, not just people who fit that predetermined mold."
The Pink Pistols is a LGBT gun rights group that reportedly saw its membership ranks swell from 1,500 to 3,500 since the deadly attack.
#shootback
The Los Angeles Times reports posters suddenly appeared in West Los Angeles this week, bearing the rainbow flag, a coiled rattlesnake, and the inscription #shootback. The Times says the signs were plastered on electric boxes, light poles, trash cans, and other surfaces throughout the area. It said several appeared near the Abbey Food & Bar, a popular gay lounge.
The Times quoted West Hollywood Councilman John Duran, who is gay, as saying the signs were upsetting and "not the right message for the gay community."
Meanwhile, guns sales are surging since Sunday's mass shooting, carried out by a gunman who pledged his allegiance to ISIS and allegedly expressed hatred for gays and lesbians. Coincidentally, Smith & Wesson stock surged this week after the gun maker reported impressive earnings for its latest quarter.
According to Yahoo Finance, the stock rose because analysts believe the company, when it gave its forward guidance, was conservative in its estimate of revenue and profit, not taking into account the hordes of new customers heading to gun shops this week.
---