---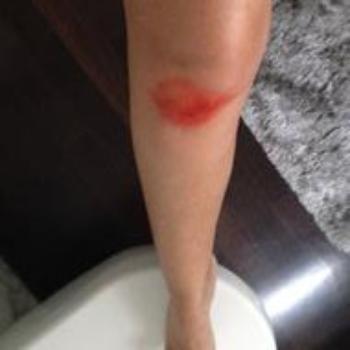 Gucci is about as high fashion as you can get but the products could be a little more rugged, according to consumers we've heard from.
Take Anthony of Ridgefield, N.J. who is happy with his 7900M watch except for one thing: "The watch band and little metal band that holds the strap in place keeps coming loose and the watch band frays."
Things have gotten worse over the years, Anthony finds "The watch band started to fray pretty quickly and now I have to send it back to get a new strap and metal band. When you pay $250.00 just for that, the costs add up pretty quickly," Anthony said in a ConsumerAffairs review.
Pilar of Vermont doesn't have a service issue with her Gucci sandals. It's her knees that need repairs whenever she wears the sandals.  
"I bought two sandals this summer. I only used once each one because every time I used them I fell in the street and bled (see photo). The material used as insole is so slippery that with the normal summer sweating causes the feet from slipping inside the sandals causing instability," Pilar said. "These sandals were quite expensive. This only happened to me with these sandals and now I think back to use them because I'm afraid to fall back again. What to do?"
Fraying tote
Then there's Christine of Orlando. "Bought a Gucci Sukey Canvas Tote Bag and just after one year the natural vertical folds have several spots that are fraying. This is not excessive wear, as I have several bags in rotation," she said.
"Gucci customer care will do nothing to fix this issue. They do not stand by their product. For a handbag as expensive as Gucci they should accommodate this issue or modify the design," she said.
Belts are also a sore point with some Gucci customers, like this one:
No laces
But if you want to find someone who's really tied in knots, talk to Doug of Garland, Texas.
"I had to take my boots back to Gucci at the Galleria Mall in Dallas of all things to get a new pair of laces for my boots. ... The laces obviously wear out and need to be replaced. I originally called Gucci to get a new pair of laces but I was told I needed to ship the boots back to them for this. I thought this was a pretty ridiculous option but finally I had to as I could not find a dressy pair of laces for the boots."
Doug took the boots back to the Galleria to have the laces replaced. Six weeks went by. No boots.
"After 6 weeks I called into the store to check on them and spoke with the store manager. We finally got to the point of him agreeing to contact the 'Repair Center' and call me back. He never did," Doug said. "I followed up today and he told me he had asked them to pull them and ship them back. I asked if they were being sent back without being given a new pair of laces. He told me that is what I asked him to do."
Doug admits he "went off" on the manager upon hearing this but asks: "Who in their right mind would return the boots after I have already waited that long for SHOE LACES?"
Doug says he's taking bets that he'll never see the boots again.
---