---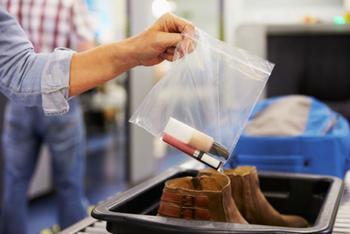 With an improved economy, more consumers are taking to the skies. Air traffic is up in early 2016 and is expected to break records this summer.
As we reported this week, J.D. Power's latest survey shows passengers are more satisfied with the nation's airlines than they have been in the last 10 years. But the survey didn't ask about the Transportation Security Administration (TSA) check-in system.
There, complaints have been mounting, and not just from frustrated passengers. Gizmodo reports that even the Port Authority of New York and New Jersey has taken TSA to task, where wait times at New York area airports reportedly approached an hour during the spring.
Viral YouTube video
Now there's an infamous YouTube Video (below), shot Thursday at Chicago's Midway airport, that purports to show an endless line of passengers waiting to get through the security check point. To say the video has gone viral is something of an understatement – more than a million views in less than 24 hours – so it has apparently touched a nerve.
Please note that the video does contain strong language.
Congress gets on board
If there's one thing that gets Congress' attention and promotes bipartisan action, it's crowded airports and the inability to make a speedy getaway on a Thursday afternoon. This week, lawmakers approved TSA's request to hire more than 700 new screeners and get them in place before the summer.
TSA, meanwhile, is pushing back against some of the criticism, suggesting at least some of the delays at checkpoints could be alleviated if passengers were better prepared when they show up.
In a press release directed at passengers traveling through New York area airports, TSA said the reasons for checkpoint delays include a significant increase in passengers, more people with carry-on bags -- many of which have more than the limit of one carry-on bag and one personal item per passenger, and budget cuts that have reduced the ranks of screeners.
Be prepared
The agency said the best way for passengers to help speed things along is to show up prepared.
"Passenger preparedness can have a significant impact on wait times at security checkpoints nationwide," the agency said in its release. "To facilitate the security screening process, travelers should arrive at the airport two hours in advance of a domestic flight and three hours prior to an international flight to ensure that they have time to park their cars (or return rental cars), check their bags with their airline, get their boarding pass, and make their way through the security screening process."
TSA says being prepared means getting there early, having ID handy, knowing what you can and cannot take on board the aircraft, and not packing banned items in bags.
---