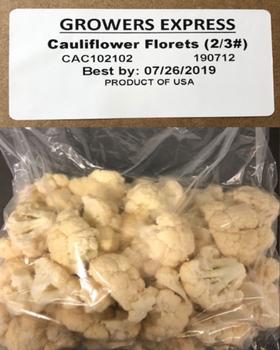 Growers Express is expanding the list of select fresh vegetables recalled earlier this month.
A single retail sample was found to be contaminated with Listeria monocytogenes.
There are no reported illnesses to date.
The following items have been added to the original list:
Retailer/

Distributor

Item Name

lbs
Lot No.
States Affected

Best

By

Big Y
Brussels Sprouts
2 lb

190

628-405

839

MA
Pack Date
6.28.19

Native

Maine

Cauliflower Florets
3 lb

190

627-405

616

ME

Best

By
7.11.19

Ruby

Robinson (PFG)

Green Beans
5 lb

190

625-405

265

ME

Pack

Date
6.25.19

Cauliflower Florets
3 lb

190

628-405

842

ME

Pack

Date
6.28.19
The recalled products originated at a Growers Express production facility in Biddeford, Maine, and were shipped to Massachusetts and Maine.
What to do
Customers who purchased the recalled products should not consume them and discard them
Consumers may contact the company toll-free number listed on each package with any questions or requests for refund. Up-to-date information may be found at www.GrowersExpress.com/voluntaryrecall.