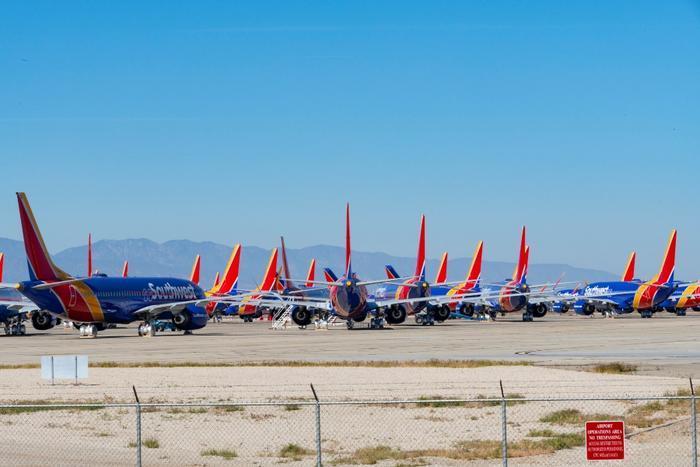 Would you fly on a Boeing 737 MAX? Apparently, that's not something you are going to have to worry about for a while.
The aircraft has been grounded since March following two crashes within five months. Both disasters -- the crash of a Ryan Air jet in October 2018 and March's crash of an Ethiopian Airlines jet -- occurred shortly after the planes left the ground. The plane's automated flight control system has been redesigned as a result.
Yet the planes remain grounded with no timetable for a return to the sky. Boeing has consistently said it hoped for Federal Aviation Administration (FAA) recertification by the end of the year but that has begun to look unlikely.
Even when the FAA gives the MAX a green light, the grounded planes probably won't return to the air very quickly. Pilots have to be retrained before the airlines will be ready to return the aircraft to service, something that could take months.
Only three U.S. carriers affected
In the U.S., only three domestic airlines are affected. Southwest Airlines had been operating the most 737 MAX jets before the grounding, replacing its aging fleet of regular 737s. American and United operated a smaller number of planes.
All three airlines have made adjustments since the grounding, using different types of aircraft or consolidating routes. The airlines have encountered additional costs to maintain the grounded planes which have remained idle since March.
The 737 MAX has been a major headwind for Boeing this year. It had expected to deliver a number of the new jets to airlines around the world this year and next, but it has been unable to do so because of the grounding. Total Boeing aircraft sales are down 66 percent in 2019.
Even when the 737 MAX is cleared to return to service and pilots are fully trained, airlines may be slow to resume flights. Carriers will have to rebuild consumer confidence that has been eroded, not just by the grounding but by the continued delay in redesigning the flight control system.
Back in June, Delta Airlines CEO Ed Bastian predicted it would take longer than expected to return the 737 MAX to service. Bastian, whose airline does not operate the MAX aircraft, told CNBC that he expected it would take a while for consumer confidence in the plane to return.