---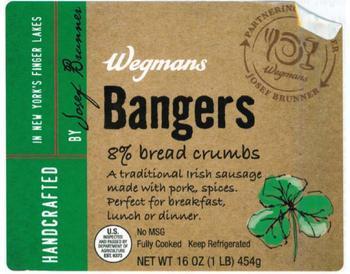 Grossglockner Inc., of Canandaigua, N.Y., is recalling approximately 204 pounds of fully cooked, not shelf stable, pork sausage bangers.
The firm affixed the incorrect label to the back of products on the July 6, 2016 packaging date. The products have the "Banger Sausage" front label but have an incorrect ingredients label for "Wiener Products" on the back of the package.
The Banger sausages contain breadcrumbs formulated with wheat; however, the back label is not correct and thus, does not sub-list the breadcrumbs. Therefore, wheat is not declared and may elicit allergic reactions in those allergic to wheat products.
There have been no confirmed reports of adverse reactions
The following item, produced on July 5, 2016, is being recalled:
16-oz. vacuum-packed packages containing "Handcrafted by Joseph Brunner Wegmans Bangers 8% Bread Crumbs" bearing lot number "18716" and a sell-by date of 08/24/2016.
The recalled product bears establishment number "EST. M-6373" inside the USDA mark of inspection, and was shipped to Wegman's stores in Pennsylvania, Maryland, New Jersey and Virginia.
What to do
Consumers with questions about the recall may contact Elizabeth Brunner at (585)-266-4960 ext. 103.
---