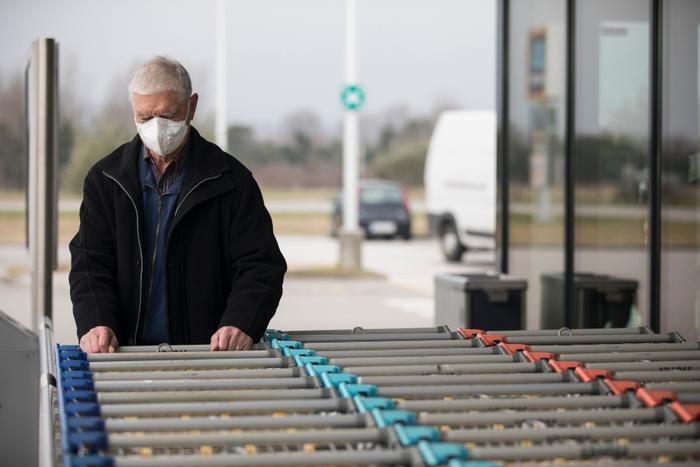 Since there's not a lot of physical high-five'ing going on in the world right now because of the coronavirus pandemic, consumers might want to give a virtual one to the growing list of companies that are stepping up to allot dedicated time for seniors and other vulnerable shoppers.
Target's in. So is Dollar General, Whole Foods, and Walmart. All are reserving some time during the week when the elderly and those most susceptible to the virus can come in and get their shopping done without having to fight the hordes of other, more ambulatory shoppers.
Responding to consumer suggestions
Small businesses like Rainbow Blossom, a natural food market chain in the Louisville KY area, are also responding to that compromised demographic. "We know that a lot of people are shopping for the elderly right now, which is a great thing," Lois Esrey, the wellness manager at a Rainbow Blossom store told the Courier-Journal. "They can come in, have an hour and not feel frightened."
It's not only interesting, but refreshing that Rainbow Blossom took to the notion thanks to one of its own shoppers.
"Things are changing so quickly that we are finding the need to adapt to the way we are doing business," Summer Auerbach, Second Generation Owner, said in an announcement viewed by ConsumerAffairs. "A customer came to us with this idea yesterday and we decided that this would be easy to execute and a good way to protect the most vulnerable population during this outbreak."
The list of stores and special shopping hours
When stores are offering these special time slots is not an across-the-board, everyday thing, though. Each one is different. To help wade through all the who, what, and when, ConsumerAffairs has put together a list of the major grocery stores that are participating in this offer for seniors and people who might be vulnerable to COVID-19. 
Albertsons: The food chain is reserving 7 to 9 a.m. on Tuesdays and Thursdays. 
Big Lots: The first hour of each day.
Dollar General: The first hour of each day.
Safeway: Tuesdays and Thursdays, 7-9 a.m.
Schnucks: 6 to 7 a.m. daily. 
Stop & Shop: Every morning from 6 a.m. to 7:30 a.m.
Target: The first hour of shopping on Wednesdays.
The Fresh Market: Weekdays 8 a.m. to 9 a.m. 
Walmart: Tuesdays, one hour before regular store opening hours.
Whole Foods: All stores are open one hour early.
Note: Opening hours can vary from location to location, and local mandates may also affect store hours. Consumers would be wise to contact the store they would like to shop at to verify when that particular store opens. 
Medicare's expanding coverage and cutting out-of-pocket costs, too
Another piece of good news for seniors and at-risk people came out of Washington on Wednesday when Medicare announced that it's temporarily expanding its coverage of telehealth services in response to COVID-19.
With waiting lines at doctor's offices continuing to grow longer and probably a little more unguarded, Medicare suggests its recipients use risk-free telehealth services for common office visits, mental health counseling, and preventive health screenings. 
"If you have an existing healthcare appointment, or think you need to see your doctor, please call them first to see if your appointment can be conducted over a smartphone with video capability or any device using video technology, like a tablet or a laptop," Medicare wrote in an email to its beneficiaries. "For some appointments, a simple check-in over the phone without video capabilities may suffice." 
The agency has a complete rundown on telehealth services Q&A, here.
And if I'm showing symptoms?
Medicare says anyone who thinks they've been exposed to COVID-19 and has developed a fever or respiratory problems should skip the virtual option and call their healthcare provider immediately.
While consumer uncertainty about what health insurance covers when it comes to COVID-19 continues to mount, Medicare has its users' back during the pandemic. It is covering the cost for COVID-19-related lab tests with no out-of-pocket costs charged at all.