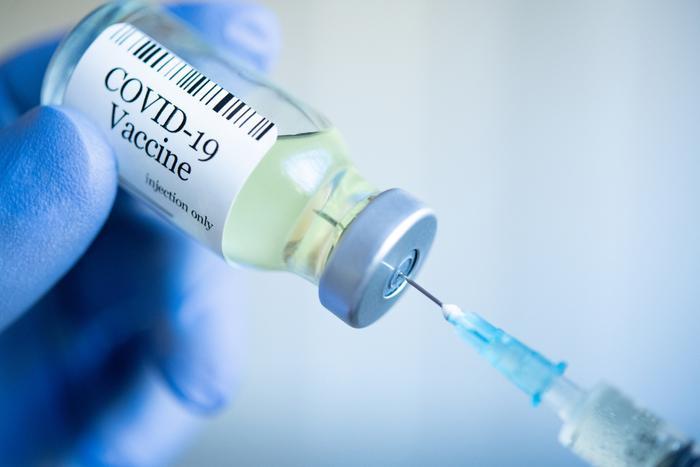 While some states are scrambling to find a solution to the rocky rollout of the coronavirus vaccines, the nation's largest grocery chains have joined in to help speed things along. 
According to announcements from various reports, grocers are gearing up for a massive rollout of COVID-19 inoculations with a special emphasis on high-priority recipients. Following guidance from the Centers for Disease Control and Prevention (CDC), those included in Phase One are health care workers and residents of long-term care facilities. 
Next up in Phase Two are frontline essential workers (non–health care workers), persons 75 years old or older, and a grocery chain's own workers who are considered "frontline essential workers." 
Finding where to get the shot
The first thing to understand is that despite guidance from the CDC, there's not a single nationwide list or pecking order of where to get vaccinated. Each state is doing its own thing, and the various retailers who are administering shots also have their own game plan. Here are how some of the major grocery chains are handling the situation:
Albertsons (including Albertsons, Safeway, Vons, Jewel-Osco, Shaw's, Acme, Tom Thumb, Randalls, United Supermarkets, Pavilions, Star Market, Haggen, and Carrs): Albertsons began its vaccine-distribution effort on December 18 in Alaska. The next step in the company's action plan is to distribute vaccines at in-store pharmacies and, where necessary, non-store sites in certain communities.
Consumers can bookmark this Albertsons special COVID-19 website page to sign up for alerts and keep tabs on the company's vaccination plans. 
Kroger (including Kroger, Fred Meyer, Fry's, Harris Teeter, King Soopers, Jay C Food Store, Pay-Less Super Markets, QFC, Ralphs, and Smith's Food and Drug): The Kroger Company hasn't published an official gameplan. The company released a vague statement saying that "Kroger Health is engaged in vaccination efforts for prioritized populations in several other geographies."
The best bet ConsumerAffairs could find for Kroger vaccination updates is its vaccination appointment scheduling web page. That is likely the best place to start.
Publix: The nation's third-largest grocery retailer says that a limited number of COVID-19 vaccines are "on the way" to certain Publix pharmacies in Citrus, Hernando, and Marion counties in Florida. "We're preparing to make appointments through our online scheduling system while supplies permit, and to administer the COVID-19 vaccine to eligible individuals," the company said.
Consumers can bookmark this special Publix COVID-19 vaccination website page to sign up for alerts and keep tabs on the company's vaccination plans. 
Walmart: The king of retail started out by taking care of its pharmacists first. First in line was a Walmart pharmacy clinical service manager in New Mexico. 
"We're also preparing our 5,000+ pharmacies at Sam's Clubs and Walmart stores to be ready when the time comes to administer to essential workers, first responders and older Americans in 'Priority 1B' and 'Priority 1C,' based on the recent recommendation by the CDC's Advisory Committee on Immunization Practices," the company wrote.
Consumers can bookmark this Walmart website page to keep tabs on the company's vaccination plans. 
Others: Other grocery chains reportedly partnering with the U.S. Department of Health and Human Services on the vaccine access program, or serving as federal pharmacy partners for coronavirus vaccinations, include Ahold Delhaize, Costco Wholesale, H-E-B, Hy-Vee, Meijer, Southeastern Grocers, Big Y Foods, Brookshire Grocery, Coborn's, Hartig Drug, King Kullen, Food City, Ingles Markets, Price Chopper, Raley's, Save Mart, SpartanNash, Tops Friendly Markets, Wegmans Food Markets, and Weis Markets.
Lucking out at the last minute
The various COVID-19 vaccines have shelf lives that require them to be used within a certain time frame or tossed out, and some grocers are offering unused doses to people outside of a phase rather than letting them go to waste.
GroceryDive points out the example of H-E-B, which had fresh vaccines left over after it gave the first doses it received to community health care providers. It decided it would offer unused doses to people in Phase 1b rather than let them spoil. Fox News also reported a similar scenario at a Giant Food supermarket in Washington D.C. in which two people were approached by a pharmacy technician 10 minutes before the store was set to close.
"Per the government guidelines, providers can give any remaining doses to people who fall within the next priority group. Every attempt is being made to prevent this, but no doses should be wasted," H-E-B said.