---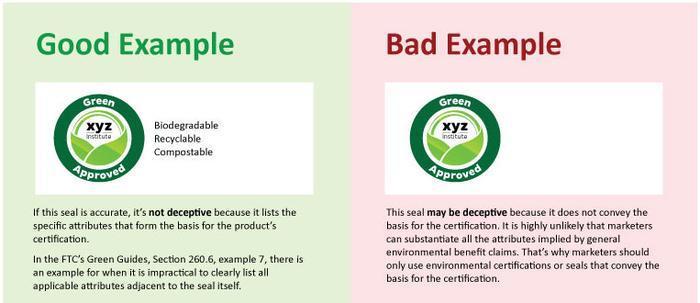 It's one thing to say your product is "eco-friendly." It's another to say that it is recyclable. One claim is very broad, the other very specific. It's up to businesses and marketers to know the difference, according to a reminder from the Federal Trade Commission.
The FTC staff has sent warning letters to five providers of environmental certification seals and 32 businesses using those seals, alerting them to the agency's concerns that the seals could be considered deceptive and may not comply with the FTC's environmental marketing guidelines.
"Environmental seals and certifications matter to people who want to shop green," said Jessica Rich, Director of the FTC's Bureau of Consumer Protection. "But if the seals' claims are broader than the products' benefits, they can deceive people. We are holding companies accountable for their green claims."
Hard to tell
It's hard for consumers to know whether a product is really, really green. After all, who knows if that coffee cup is really made from recycled paper? That's where certification seals come in -- they can provide some assurance that a product is what it claims to be.
But if those claims are too broad -- using words like "green" and "eco-friendly" -- they could be construed as misleading and deceptive. After all, there are very few products that are totally benign. 
Besides the warning letters, the FTC has a new business blog post, Performing Seals, that it says can help marketers understand how certification seals can comply with the Green Guides.
The agency did not disclose the businesses and organizations to which it sent the warning letters. 
---