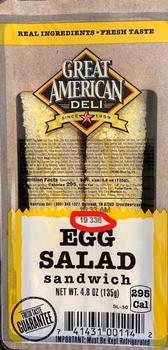 Great American Deli of Ooltewah, Tenn., is recalling GAD #114 Egg Salad Sandwiches.
The products may be contaminated with Listeria monocytogenes.
There are no reports of illnesses to date.
The following lots of the 4.8-oz. recalled products, with UPC: 7-41431-00114-2, are being recalled: 19094, 19107, 19129, 19155, 19158, 19218, 19237, 19259, 19274, 19297, 19304, 19310, 19322, 19336.
The recalled products may have been sold at convenience stores, micro markets and vending machines in Wisconsin, Iowa, Illinois, Missouri, Kansas, Arkansas, Louisiana, Texas, Mississippi, Alabama, Florida, Tennessee, South Carolina, North Carolina, Kentucky, Virginia, West Virginia, Ohio, Indiana, Michigan and Pennsylvania.
What to do
Customers who purchased the recalled products should return them to the place of purchase for a full refund.
Consumers with questions may contact the company at (800) 343-1327 Monday – Friday 8:00 AM to 5:00 PM (ET).