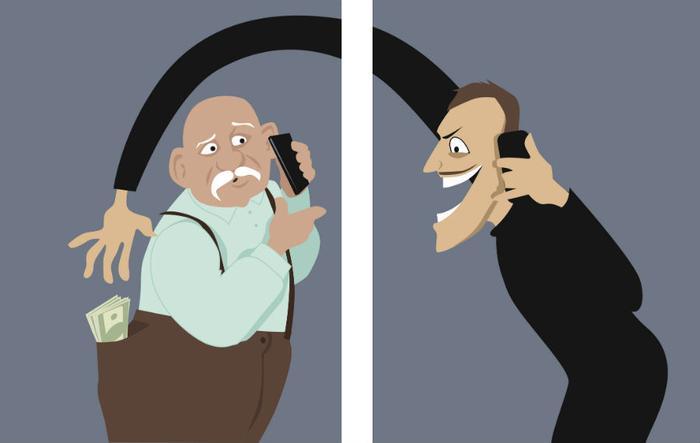 The grandparent scam has proven highly effective against seniors over the years, but now it's even more dangerous.
Scammers running the ruse, in which they pretend to be a child who has been arrested and in need of money, are spoofing the number of a U.S. District Court so that its information is what shows up on victims' caller ID.
Missouri Attorney General Eric Schmitt reports that the federal court for the Western District of Missouri has recently gotten hundreds of calls from people who claim to have received calls from the court's number asking for money.
Court officials say no one in that office is making those calls and warn consumers that its phone number is being spoofed by scammers.
Why it's more dangerous
This new twist makes the grandparent scam even more dangerous. First, an intended victim is more likely to answer a call from a strange number if the caller ID indicates it's coming from "U.S. District Court."
Once on the line, the scam unfolds pretty much the standard way. The caller pretends to be a teenage grandchild who has gotten into trouble and needs their grandparents to send money for bail, a lawyer, or both. The fact that the victim believes the call is coming from federal court just adds to the perceived credibility.
In 2015, the average loss in the grandparent scam was reported to be $4,000. Despite repeated warnings to the public, the scam continues to be effective. Schmitt says victims of the latest scam are not limited to residents of Missouri. He says the calls spoofing the federal court number have been going out nationwide.
"I urge Missourians and citizens across the country to follow the tips listed by my Consumer Protection Section to avoid falling victim to these scams and to report these scams to our office – we will take action wherever possible," Schmitt said.
What not to do
Consumers are being reminded to not automatically assume that a call from someone claiming to know them is real. In these cases, it's always smart to ask a question that a real grandchild would know.
For example, if your grandson is an only child, ask the person claiming to be him if he has talked to his sister. Unless he replies "Grandpa, you know I don't have a sister," then the caller is an imposter.
More importantly, Schmitt says to never send any money until you have absolutely confirmed the person you are talking to is who they say they are. It's just part of the effort required to stay one step ahead of the crooks. 
"There are scammers who consistently think of new ways to take people's money – this scam is just another example," Schmitt said.