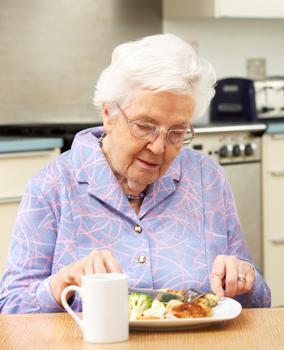 The world is a pretty treacherous place, even the world that's bounded by the four walls of your home. Most accidents happen in the home, after all, with the bathroom and the kitchen topping the list of hazardous locales.
Seniors are especially vulnerable to injuries, especially falls -- the leading cause of fatal injuries for Americans 65 and older.  In fact, more than 18,000 older Americans die every year because of a fall, and the rate has risen dramatically over the last 10 years.
Pretty serious, no? Unfortunately, it's not all that easy to find reliable information on preventing falls, although it's plenty easy to find page after page of ads and product listings, many of dubious value.
Common sense
Take grab bars, for example. These are the simplest and most straightforward way to make bathrooms and other treacherous locations a bit safer for those whose balance isn't what it used to be.
Installation is pretty straightforward, requiring little more than a drill and some common sense. But like many safety devices, grab bars can be dangerous if installed improperly -- or, worse yet, not installed at all.
The latest trend in grab bars seems to be suction cup models that are ballyhooed on Amazon and just about everywhere else. All you have to do, we're told, is slap them up on the wall and forget about them.
There is, of course, the little matter of whether the things will actually remain attached to the wall if a consumer grabs one to break a fall.
Since safety is the primary goal and since there are numerous local and federal regulations and standards governing grab bars, we turned to Google to see what we could learn, with somewhat frustrating results.
Not long ago, Google was still a search engine that would return all kinds of information on a topic. Now it's a shopping service and not a very good one for a consumer trying to find unbiased, reliable information. Hoping things would be different this time, we typed "grab bar safety" in Big G's search box.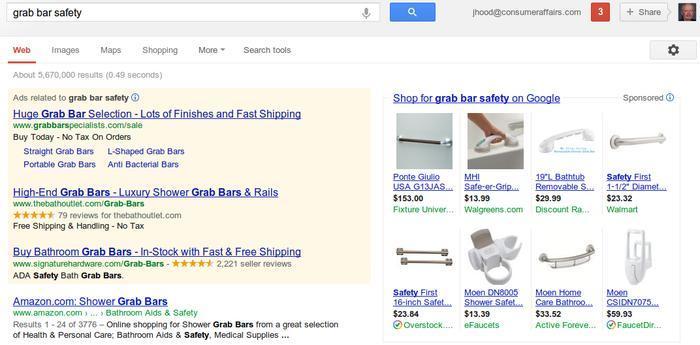 The results were, as expected, page upon page of ads and product listings  helpfully organized under the heading "Shop for grab bar safety on Google." The most notable ad was moronically headed "ADA Approved Grab Bars."
This, persumably, refers to the Americans With Disabilities Act (ADA), a body of law that protects the rights of disabled Americans. The ADA is not an agency and thus not in the business of approving or disapproving commercial products, but deception and sugar-coating is all too common in advertising aimed at seniors, so perhaps we shouldn't be surprised. 
Super Grip
At the top of the "organic" -- meaning unpaid -- Google listings was Amazon, which informs us it has 3,771 listings for grab bars.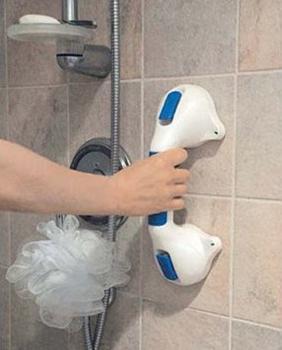 We took a look at the first one -- the "Ideaworks Super Grip Bath Handle w/ Color Change Safety Indicator," a little number that goes for $9.04 and even includes an indicator that supposedly changes color to assure us that the handle is firmly gob-smacked onto the wall.
"This safety handle will assist you to get in and out of a slippery bathtub. Two suction cups will secure this handle on the side of your bathtub or shower wall and allow you to get a good grip. ...  It instantly installs using suction, without requiring holes, tools, screws or permanent installation."
Sounds too good to be true? Yes, well, read on a bit and buried in the gee-whiz sales copy, you'll find this: "Use for stability only. Not intended to support full body weight."
Hmmm ... so in other words, it's fine as long as you don't trip and fall. 
Attractive nuisance
Stick-on contraptions like this could be said to fall under the "attractive nuisance" category -- a somewhat obscure term that refers to things that entice us into dangerous activity. The usual examples include unfenced swimming pools, playgrounds on a busy street and handrails that collapse when you lean on them.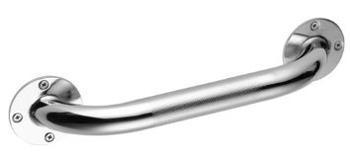 While you may not be able to put up a truly safe grab bar for $9.04, you can find perfectly suitable ones for just a few dollars more -- the Medline 12-inch grab bar is only $13.47 on Amazon. Installed properly, this bar will actually do what you want it to -- support your weight if you trip or lose your balance.
The devil, as always, is in the details. The bar needs to be mounted properly -- and that means attaching it to the studs behind the wall. Thanks to DuckDuckGo, a search engine that is not just shopping effluvia, we found an excellent set of step-by-step instructions on the Natural Handyman site. 
The site doesn't sugar-coat the situation and notes that the proper mounting method depends on the anticipated use. If a very heavy person is going to be putting his or her full weight on the bar routinely, simply screwing the bar to the wall studs may not be adequate and some reinforcement may be needed, the site cautions.
Anyone who has seen a grab bar pulled out of a wall will appreciate this caution.
It should also be noted that there may be local building code regulations in your area covering grab bars. It's important to comply with these regulations, for insurance reasons if nothing else.
Keeping seniors safe
Grab bars aren't the only safety measures suitable for seniors, of course. There is still plenty of solid information on the Web, though too much of it is now buried under the onslaught of advertising and search-engine-optimization wizardry that has turned Google into a treacherous swamp of hucksterism. 
One excellent source of information is the National Council on Aging, which, among other things, outlines six steps you can take to make the home front safer for seniors.  AARP also has a lot of good information on preventing falls.
Whatever you decide to do or not do, it's worth remembering there are no shortcuts to safety. On the other hand, there are tremendous benefits to doing the job right.