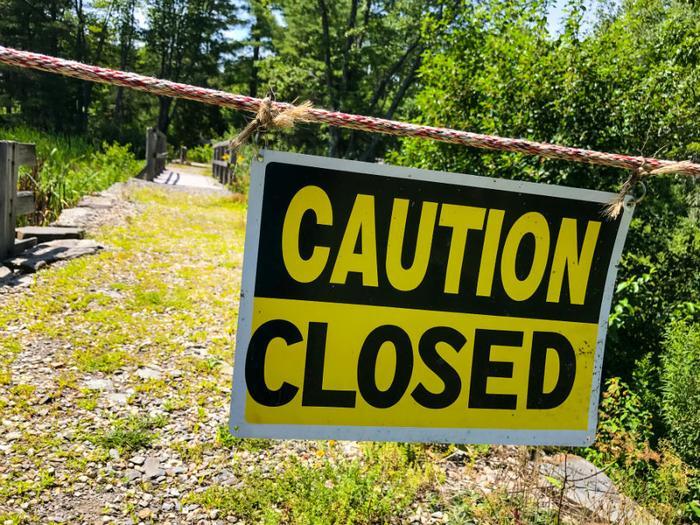 If you're planning a winter getaway to one of the U.S.' national parks, you might want to double-check whether the park is actually open or not.
The U.S. government's shutdown is causing issues for consumers all across the board -- from electronics consumers buy to recipients of food aid -- but the " the Blackberry Inn's Steve McCorkle told travel industry documenter Skift. "It is getting more and more difficult to operate a hospitality business in this area, and others, I'm sure."
Typically this time of year, places like the Blackberry Inn Bed and Breakfast, neighboring California's Yosemite National Park, would be busy taking reservations for when it reopens in March. Now, as the shutdown creeps closer to a third week, and many parks are left with reduced means, the Blackberry can only hope Yosemite will be back up to full speed and fully accessible to tourists come that time.
"The phones are not ringing, the email inquiries not there in the mornings and the reservations for 2019 are not coming in as expected," the Blackberry Inn's Steve McCorkle told travel industry documenter Skift. "It is getting more and more difficult to operate a hospitality business in this area, and others, I'm sure."
A 100-million-dollar-a-day-hit
The U.S. Travel Association reports that the shutdown is taking a toll on travel-related services to the tune of $100 million each day it's in effect. That $100 million includes nearly $50 million in direct domestic travel spending, plus over $50 million in indirect and induced travel-related output.
Out of that figure, the National Parks Conservation Association (NCPA) estimates that the Park Service is losing $400,000 per day from entrance fee revenue alone. The National Park Service (NPS) reported that several states, private concession companies, and nonprofit groups ponied up to $2 million in donations and in-kind services to help some 40-odd parks continue to provide essential visitor services, but that barely made a dent.
Proceed with caution
The grizzly bears and elk aren't roaming amok, but "many national park sites are experiencing problems with human waste in open areas, along roads and at overflowing toilets, a serious concern for human health as well as wildlife health," the NCPA wrote in a blog post.
"Increased waste and litter; dog-walking, parking and camping in unpermitted areas; and the unauthorized use of drones have threatened wildlife and habitat in some parks. And because of the lack of park staff to educate visitors and supervise operations, visitors are driving, hiking, using off-road vehicles, parking and camping in areas where these activities are not permitted. These activities create unsafe conditions for people, wildlife, plants and park resources. Additionally, the lack of personnel increases the risk of vandalism to historically important sites."
Smart to press pause on travel plans?
ConsumerAffairs reached out to Hannah Sampson, Senior Enterprise Editor at Skift, to dig deeper into what other travel-related issues the shutdown might cause.
"While many travelers who had plans to visit national parks and Washington, D.C. during the holiday break likely went through with their trips, it wouldn't surprise me to find people putting off plans to go to those destinations in the near future, given the uncertainty that still surrounds the shutdown," Sampson told Consumer Affairs.
"Coverage of waste-ridden scenes at some popular parks, as well as reports of injuries and deaths, may keep travelers away in the near term. And confusion over which parks are open, closed or something in between won't help circumstances."
And, let's not forget the shutdown's effect on air travel. Sampson said that "as air traffic controllers, TSA inspectors, and pilot unions warn about safety concerns due to the shutdown, the impact is likely to resonate with a much broader swath of travelers. The warnings are unsettling; who wants to fly with that extra worry in the back of their mind?"
If you have travel plans that include a national park, the NPS recommends that you check in with the National Park Service for updates on parks and sites you plan on visiting.