---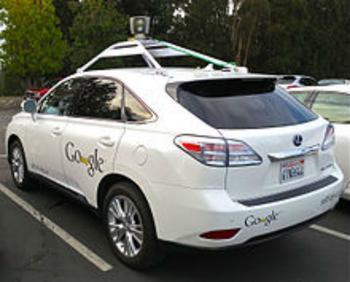 Google is perhaps one of the biggest companies in support of getting self-driving cars on the road. Back in March, it asked Congress to allow federal regulators to override the wishes of states that rejected the new technology, and since then it has been testing and refining its own prototype.
Testing new technologies comes with risks, though, and the company's self-driving car recently hit a bump in the road. On Friday, reports surfaced that the vehicle had been involved in an accident in Mt. View, Calif. Another driver allegedly ran a red light and collided with Google's vehicle.
The car was operating autonomously when the crash occurred, but a Google employee quickly took over control and applied the brakes as the other car entered the intersection. No one was hurt as a result of the incident.
"A Google vehicle was traveling northbound on Phyllis Ave. in Mountain View when a car heading westbound on El Camino Real ran a red light and collided with the right side of our vehicle. Our light was green for at least six seconds before our car entered the intersection. Thousands of crashes happen everyday on U.S. roads, and red-light running is the leading cause of urban crashes in the U.S. Human error plays a role in 94% of these crashes, which is why we're developing fully self-driving technology to make our roads safer," said Google in a statement.
Improving safety
The crash comes shortly after safety regulators released new guidelines for autonomous vehicles. The provisions are meant to shore up any laissez-faire approaches to creating self-driving cars so that they are safe before consumers can operate them on the open road.
Safety advocates were pleased with the change in policy, saying that the Department of Transportation's focus on consumer safety was "long overdue." Transportation Secretary Anthony Foxx reiterated in a statement that self-driving vehicles could save many lives..
"Automated vehicles have the potential to save thousands of lives, driving the single biggest leap in road safety that our country has ever taken," he said.
Despite the recent accident, Google will surely continue to test its self-driving technologies going forward. The company releases reports on how far its vehicles have traveled and provides accident details at its "Google Self-Driving Car Project" page here.
---