---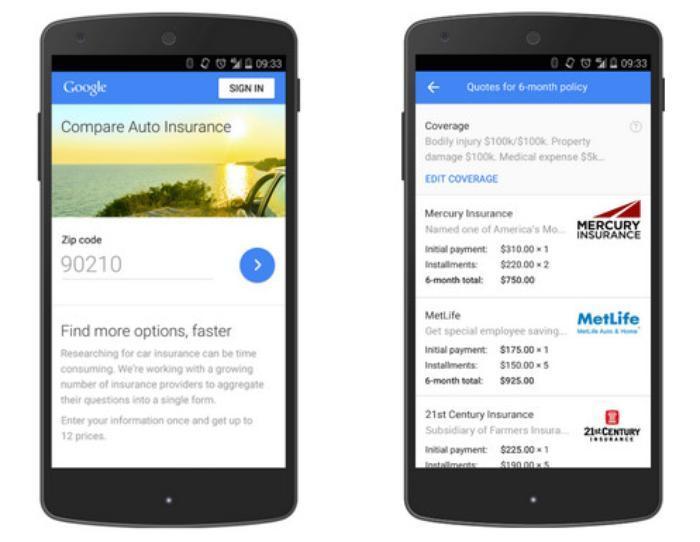 Quick, what's the most boring and confusing thing you can think of? If you said insurance, you're right on target.
But, boring and confusing though it is, insurance is something everyone needs. Car insurance, in particular, is a requirement for anyone who wants to register a car in the U.S. And with monthly premiums amounting to $100 or more, you're talking about a lot of money. Billions of dollars, in round numbers.
So it was, perhaps, only a matter of time before Google waded into the insurance marketplace with a U.S. version of its Google Compare site, which has been operating in the UK for two years. It's starting with California, with more states to follow, we're told.
"When it comes to buying car insurance, 80% of drivers think they'd find a better policy if they could compare more than two providers. That's why today we're introducing Google Compare for car insurance in California, with more states to follow," said Jerry Dischler, Vice President of Product Management, Google AdWords, in a blog posting.
It works about the way you'd expect -- your enter your name, driver's license number and a few other bits of data and Google displays the rates offered by its "partners," who pay a commission on any business Google brings their way.
The only problem with this, from the consumer's standpoint, is that Google does not yet have partnerships with every insurance company, which means there may be better rates lurking out there that Google doesn't bother to tell you about because it doesn't get a commission from those companies. Google does, however, have an arrangement with a site called CompareNow, which gives it access to some of the companies it would otherwise be missing.
So far, the only major companies signed up with Google are MetLife and Mercury. It's missing such titans as Allstate, Geico and State Farm.
Agents petrified
The insurance industry has been dreading Google's entry into the field but that's nothing compared to how independent agents feel about it. They're petrified. Those who aren't should be.
Agents, who make their living through commissions, have been the backbone of the insurance business. Like travel agents, their commission is covered by the companies they represent, so there's no visible cost to the consumer. And many agents -- travel and insurance alike -- perform valuable services by guiding consumers through the buying process, helping them make wise decisions (or at least that's how it's supposed to work).
We see, of course, how well travel agents survived after Google and others began offering ticket prices and selling tickets. Short answer: they didn't.
When you squeeze out the agents, you might assume that the cost to consumers would go down since the companies no longer have the pay a commission to the agents. That ignores, however, the commission they pay to the Googles of the world.
While it's possible that Google might help consumers find a better policy for less money, it's also possible we'll never know if we really have the best policy for our needs, since there's more to insurance and most other things than just price.
Ah, but Google says it will have us covered on that score too. Soon it will be reviewing and rating insurance companies, not just selling their policies.
---