---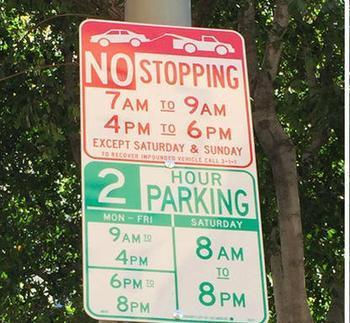 Looking for a parking space? Google may soon know where they are. It probably knows where you are too, so maybe it would make sense to put those data points together.
That's apparently the thinking behind a secretive project involving Sidewalk Labs, a subsidiary of Google's parent corporation Alphabet, and the city of Columbus, Ohio.
The Guardian reports that Sidewalk Labs wants to "radically overhaul public parking and transportation in American cities" and is starting with Columbus, where it is working on a plan to improve parking and public transit.
Replace the TSA?
Perhaps Sidewalk Labs is already thinking of pursuing transit solutions on a higher plane as well. Anyone familiar with the TSA's screening methodologies might welcome someone like Google or Amazon taking over the job of spotting possible terrorists and other troublemakers on passenger manifests.
We heard recently from a consumer who wears leg braces for a neurological condition and also has artificial, titanium knees. Although she is a Global Entry/TSA Pre-check member, she is never able to board a flight without a lengthy and humiliating examination and explanation of why she uses these devices to get around.
You would think this information would be included in TSA's profile of its Pre-check passsengers, but it's apparently not. It's hard to imagine Google being that bone-headed, so this may be a case where privatization is beneficial. 
Back on solid ground, Sidewalk Labs is making its cloud software called Flow available to Columbus, which recently won a $50 million grant from the U.S. Department of Transportation to be used in improving its transportation options.
More convenient life
Sidewalk Labs has been looking at ideas which include a system that would identify available parking spaces within a few blocks of one's destination. Besides making life more convenient, that might help reduce traffic congestion, since studies have shown that more than 30 percent of city traffic consists of drivers looking for a place to park.
Flow would use car-mounted cameras to keep track of parking availability, perhaps sticking a camera on every publicly-owned vehicle in the city.
"Only Google or Apple are in a position to track parking occupancy this way, without expensive sensors on poles or embedded in the tarmac," said Alexei Pozdnoukhov, director of the Smart Cities Research Center at the University of California at Berkeley, according to the Guardian article.
Sidewalk is also looking at something called Flow Transit, which would integrate route and payment information for nearly every form of transport into Google Maps. You could enter a destination and get times and prices for everything from buses and taxis to Uber, Lyft, Zipcar, and even bike shares, the Guardian said.
Sidewalk Labs was spun out from Google last June with a mission to "improve city life for everyone." Since then, it was part of a consortium that deployed several hundred free Wi-Fi kiosks in New York.
---