---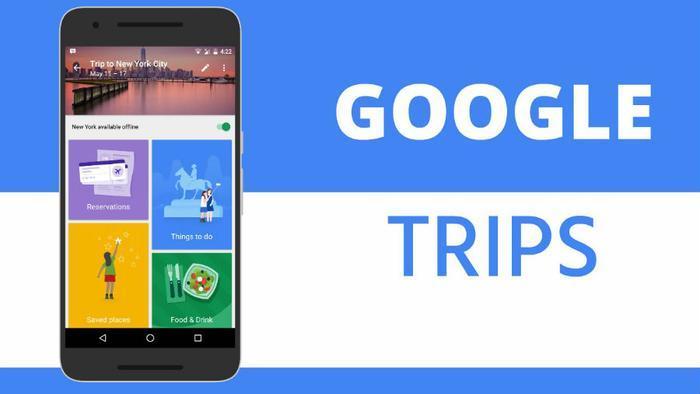 Travelers from around the world know what it feels like to be disoriented in a new city. All of the new sights, sounds, and people can be overwhelming, and if you don't know where to go you may be in for a rough time.
For this reason, most consumers rely on their smartphones to get around in unfamiliar places. But what happens if the battery dies or you hit your data limit? Now, the new Google Trips app can come to your rescue.
Google Trips is an app that allows users to store all of their trip information in one place. Officials say that the app can help you successfully plan your trip day-by-day and take the hassle out of a visit or vacation.
"We wanted to reduce the hassle and help travelers enjoy their hard-earned vacations. So today, we're introducing a new mobile app to help you instantly plan each day of your trip with just a few taps of your finger: Google Trips," said the company in a blog post.
Planning your trip
The app provides categories that consumers can input information into, such as day plans, reservations, food and drink options, travel arrangements, and more. After filling in all of the pertinent information, consumers can then tap the "Download" button to save the trip to their device, allowing them to access it without needing to rely on WiFi or data.
For some of the world's most popular tourist destinations, Google has provided some day plans so that travelers have an idea of where to visit. For example, those wishing to visit Florence, Italy may be given prompts to visit the Duomo, Uffizi museum, or even the Ponte Vecchio for some shopping.
For those working under strict time constraints, the app also gives the option to search for things to do in areas that you already know you want to visit. After clicking the "+" button in the day plans category, travelers will be provided with a list of attractions that they can see in any given area.
Users can also specify times for when they're visiting, so someone who only has time in the morning or afternoon can input that information above the map and the app will generate a day plan for you. If they happen to find a new spot that they like or want to change plans, travelers can also tap the "magic wand" icon to have the app generate a new itinerary on the fly.
Organizing information
Google Trips isn't just good for planning out your day, though. The app also allows users to store all the information they need on flights, car rentals, hotel and restaurant reservations, and more. The app collects all of the information by gathering it from a connected Gmail account and then organizes it by trip, so users won't need to dig through their inbox to find what they need.
"Vacations are a chance to recharge and experience new places and cultures. For your next trip, let us help you see all the sights you want to see, without all the work," concluded the company.
The app is available to download on both the iOS and Android platforms. 
---