---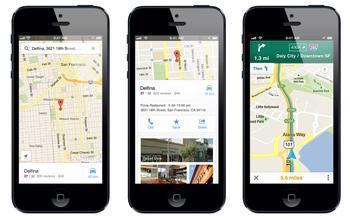 Three months after a rare Apple misstep exposed a glaring glitch in its maps app, Google has ridden to the rescue. Google has just released Google Maps for iPhone, allowing iPhone users to more easily get where they are going.
Back in September when Apple released the iPhone 5 and iOS6, the maps feature struck a sour note with otherwise devoted customers. Apple replaced Google Maps with its own version, called Apple Maps, drawing instant complaints.
It wasn't just that Apple wanted to cut the cord with Google, it said it wanted to provide an improved "map experience." The maps in the app were supposed to be prettier, provide turn-by-turn directions, synced up with Siri, and give users the perspective of flying over the landscape.
Not ready for prime time
Consumers complained of a lack of accuracy and in some cases, distorted or missing images. Eventually, Apple CEO Tim Cook issued a rare apology and suggested users access Google Maps with their browser. Now, that's no longer necessary. Google says its maps app for the iPhone is available in the Apple App Store.
"The app shows more map on-screen and turns mobile mapping into one intuitive experience," Google said in a statement. "It's a sharper looking, vector-based map that loads quickly and provides smooth tilting and rotating of 2D and 3D views. The search box at the top is a good place to start—perhaps by entering the name of a new and interesting restaurant. An expandable info sheet at the bottom shows the address, opening hours, ratings and reviews, images, directions and other information."
The company says its world map includes detailed information for more than 80 million businesses and points of interest. In addition to street view and photos of the insides of businesses, the map app offers a few new wrinkles.
New features
"To get you there, you've got voice-guided, turn-by-turn navigation, live traffic conditions to avoid the jams and if you want to use public transportation, find information for more than one million public transit stops," the Google statement said.
Apple announced back in May that it was dumping Google Maps from its updated mobile operating system. At the time it boasted of an "incredible" in-house maps app that was said to be much cleaner, faster and more reliable than the current version.
At the time, the move was views as evidence of a growing rift between Apple and Google, who own competing operating systems in the fast-growing mobile market.
---