---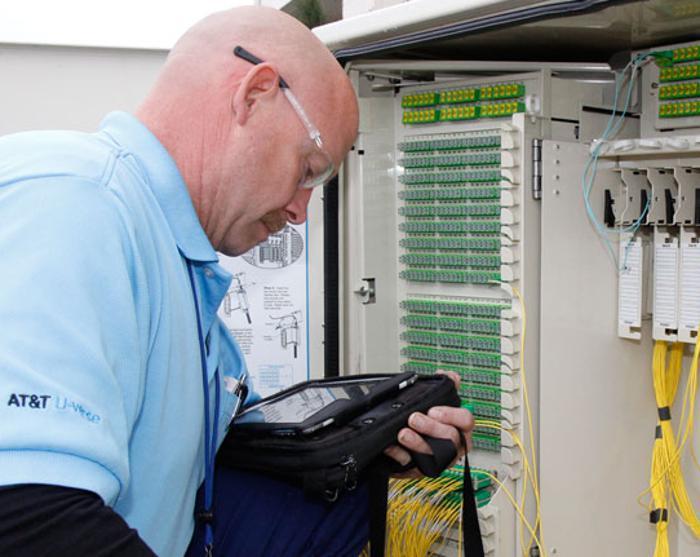 Google Fiber may be bringing its super fast one-gigabit Internet service to Los Angeles and Chicago, the nation's second- and third-largest cities. But first, the cities will have to agree to Google's list of conditions. AT&T, meanwhile, is taking a more proactive approach in a larger number of cities.
If Google's approach sounds a bit backwards, it's because it is. Normally, when a cable or Internet provider wants to wire a city, it has to apply and then meet a number of requirements. Most significantly, applicants usually have to agree to serve all of their service areas, not just the wealthy parts.
Google is having none of this, though. Its attitude is more along the lines that L.A. and Chicago will have to prove themselves worthy of becoming Google Fiber cities.
Google wants the cities to agree to an "efficient and predictable" permitting process. It also wants access to city property for network hubs and it wants a single person named to deal with the company in each city.
This might sound like Google is the only game in town. That was true initially when the company set up its first fiber network in Kansas City and, later, in other medium-sized cities around the country.
AT&T one-ups Google
But just as Google was putting together its very rudimentary announcement, AT&T was announcing that it would be rolling out its one-gigabit fiber network -- called AT&T GigaPower -- in parts of Los Angeles and 37 other cities. 
In fact, AT&T said GigaPower became available in parts of Los Angeles and West Palm Beach, Fla., today. AT&T says GigaPower is now available in 20 of the nation's largest metros. Google Fiber is operating in nine cities, according to a map on Google's official blog.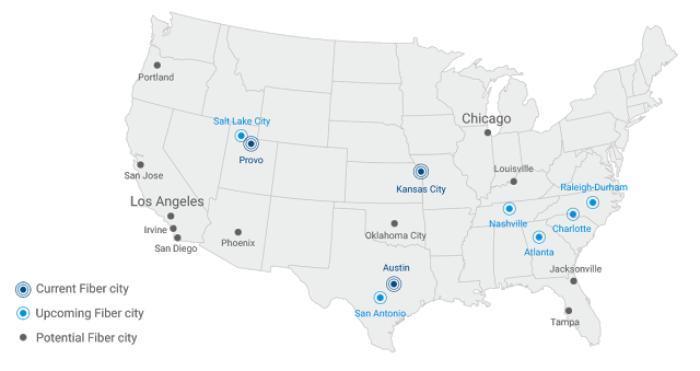 Obviously, there is the potential for conflict. Google's demands for preferred access are not likely to be well-received by AT&T, which practically wrote the book on the care and feeding of telecom regulators.
There is already a notable difference in tone. 
Google's very brief announcement puts the onus for successful completion on the cities.
"While we can't guarantee that we'll be able to bring Fiber to Chicago and L.A., this is a big step for these cities and their leaders. Planning for a project of this size is a huge undertaking, but we'll be sure to keep residents updated along the way," said Jill Szuchmacher, director of Google Fiber Expansion.
"Vision only matters if it's followed by execution," sniffed AT&T's Brad Bentley, executive vice president of Internet services. "We're able to expand the 100% fiber network quickly through our relationships with local officials. They help us execute our build plans and process permitting. Then, fiber providers cut cables to specific lengths aligned to a map of our network ahead of construction."
While both carriers make it clear they want expedited issuance of the thousands of permits that go into a major network build-out, the difference in tone is somewhat striking. 
"In the past, municipalities would ask for significant concessions like 100% coverage or building connections to schools. It was really hard to get into a new area," said Jan Dawson, chief analyst at Jackdaw Research, the Los Angeles Times reported. "What Google has done is turn the model on its head by saying, 'If you want us to build fiber, what are you going to do for us?'"
100% coverage
It's the 100% coverage that's likely to become an issue in both Chicago and Los Angeles. While smaller cities were willing to roll over and play nicely, local politics is a tougher game in the nation's megacities, which tend to have a broader range of socioeconomic groups than smaller communities.
Leaving entire sections of the South Side of Chicago dark or ignoring L.A.'s South Central are not likely to play well. 
In some of its other cities, Google Fiber charges $70 a month for gigabit service or a onetime construction fee of $300 for a much slower but free service. In an election year when rising inequality is a major campaign issue, providing a service that only affluent consumers can afford may prove problematic. 
Los Angeles Mayor Eric Garcetti has sought to boost the city's tech industry and has said L.A. should be "American's most connected city." But in a statement yesterday, Garcetti didn't sound ready to abandon poorer sections of the city. 
"Expanding, improving and strengthening Internet access throughout Los Angeles is vital to further accelerating L.A.'s economic growth — and affordable service is essential to erasing a digital divide that leaves too many people without the tools to maximize potential in the 21st century," Garcetti said.
Chicago Mayor Rahm Emanuel said only that Google Fiber service would be "a key ingredient for job growth."  
---