---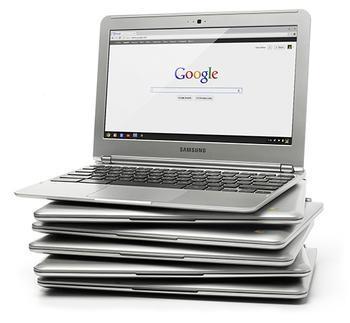 Google's Chromebooks are humble little machines, with tiny hard drives, modest processors and low-resolution screens. They will only run apps through the Chrome browser. If the Macbook Pro is a BMW, the Chromebook is a Ford Fiesta.
But guess what? They sell for as little as $199 and they do just about everything most people need -- which is turning out to be bad news for Apple and Microsoft.
Though supported only by a minimal advertising campaign, the Chromebooks and their cousins, Android-powered tablets, have turned in sizzling sales through November 2013, selling 1.76 million units compared to just 400,000 in 2012, according to the marketing research firm NPD.
Chromebooks accounted for 21 percent of all notebook sales, up from a negligible share in the prior year, and 8 percent of all computer and tablet sales through November, up from one tenth of a percent in 2012 – the largest share increase across the various product segments.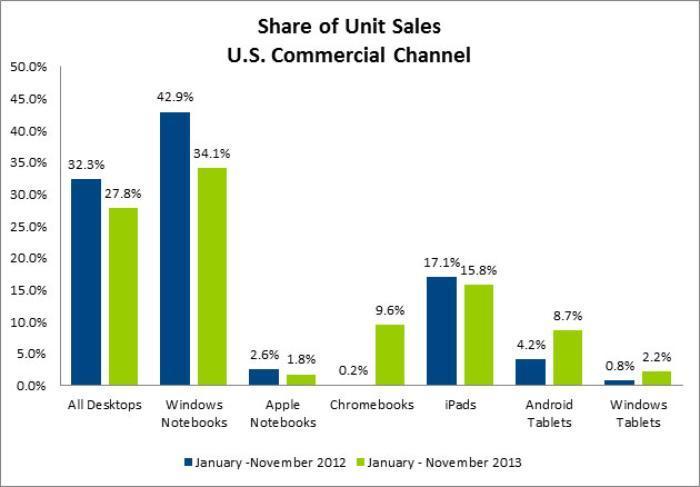 "The market for personal computing devices in commercial markets continues to shift and change," said Stephen Baker, vice president of industry analysis, NPD. "New products like Chromebooks, and reimagined items like Windows tablets, are now supplementing the revitalization that iPads started in personal computing devices."
In other words, Apple pioneered the tablet market and others are now capitalizing on it.
No reason to buy anything else
If you look at it objectively, and if your computing needs are relatively normal, there is really no reason to buy anything other than a Chromebook. It does just about everything -- word processing, email, chat, spreadsheets, graphics and photo manipulation -- via the Internet without your having to buy any expensive software. It is also relatively impervious to viruses and it updates itself effortlessly and quickly with a single click.
Windows 8, on the other hand, seems to delight in making you drum your fingers while it goes through its update routine. The other day, I fired up the Windows 8 machine I keep in the office for testing purposes (a/k/a grins and giggles) and sat through 18 minutes of updates, requiring five -- count them, five -- restarts.
OK, I hadn't used the machine for a few weeks and I don't leave it running when it's not in use because it is more virus-infested than a tick-ridden dog, but really -- 18 minutes to update? My Chromebook Pixel does it with a simple restart, which takes about 10 seconds.
Despite that, Windows has been making impressive gains. Windows desktops increased by nearly 10 percent and Apple sales for notebooks and desktops combined fell by 7 percent during the first 11 months of 2013.
And despite what you may have read, the market for computers of all kinds has been anything but dead this year, NPD reports. Year to date through November 2013, 14.4 million desktops, notebooks, and tablets were sold through U.S. commercial channels, leading to a 25.4 percent increase over 2012. That stellar performance follows the 3.1 percent sales increase experienced in 2012.
Having said all that, we must add that anyone looking for the most economical, robust, flexible and powerful operating system needs to look at Linux. There is nothing better than Linux Mint for those who want the advantages of the Chromebook without being attached quite so securely to Google.
---