---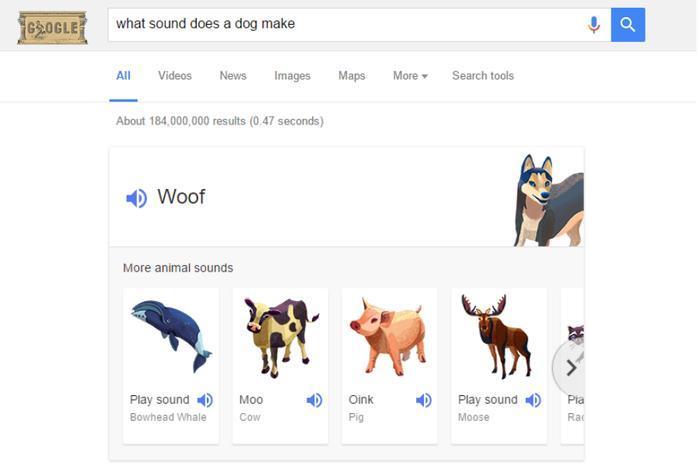 Google quietly added to its collection of lesser-known search features with animal sounds. Now, parents can help children search for "What noise does a [animal] make," and they'll hear a short audio sample. Search for more general "animal noises," and Google Search will offer up a selection of animals to choose from.
Nineteen different animal sounds are currently available: cats, dogs, wildlife and farm life, two types of whales, and even a moose. Just click the speaker icon next to the flashcard-esque picture of each animal to hear what noise or sound that animal makes.
The new feature, announced on Google's Austria Google+ page, is available on desktop and mobile search.
Kid-friendly searches
Google's addition of animal sounds pairs well with parents and educators' current interest in more kid-friendly online search tools. As we reported, Kiddle is a kid-friendly search engine that seemed to speak to parents' desire to allow their kids to use search engines in a safer way.
Kiddle -- which is powered by Google's safe search but is not affiliated with the tech giant -- showed that there is a definite need for a child-friendly internet experience. But some of Kiddle's questionable search results proved that it also isn't one hundred percent a slam dunk. 
Could the people behind the most trusted search brand be the ones to come up with a solution? Reports seem to suggest that they might be. Someday, at least.
Improved under-13 experience
Google, whose mission is to "organize the world's information and make it universally accessible and useful," seems to have heard users' cries for an improved user experience for kids under 13. The company says it's currently working out ways to help parents oversee their child's interactions with Google.
"We want to enable supervision but not be regimental," Pavni Diwanji, vice president of engineering charged with leading the new initiative, told USA TODAY. "But that's challenging because no two parents are alike. I have friends who are helicopter parents and others are even more liberal than me, but everyone has to be accommodated by whatever we create."
For Google, the kid-friendly future remains to be seen. 
---