---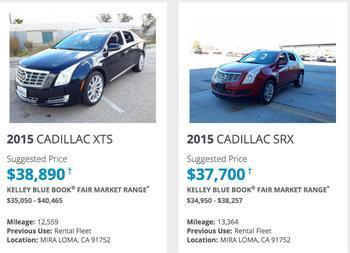 General Motors' attempt to sell used cars direct to consumers is encountering roadblocks thrown up by dealers, including threats of a lawsuit by California dealers.
GM announced the effort a few weeks ago, saying it would be good for GM, for dealers, and for consumers, who would be able to shop for and buy a used Chevrolet, Buick, GMC, or Cadillac online. 
Dubbed the GM Factory Pre-Owned Collection, the program had hoped to sell 30,000 or so vehicles, supplementing its Shop-Click-Drive, a similar program that sells new cars. 
"It creates opportunity for our dealers, it creates opportunity for us," GM President Dan Ammann said as he unveiled the program last month during the 2016 Deutsche Bank Global Auto Industry Conference in Detroit, the Detroit News reported.
Foot-dragging
But now, dealers are dragging their feet, with only one in four signing up to participate and California dealers threatening legal action.
"We have had our attorneys review the program and they have raised various legal issues that need to be addressed by GM," said a letter to GM, signed by Brian Maas, the association's president, Automotive News reported.
The letter suggests the program puts GM in competition with its dealers and says it may violate state laws that prohibit auto brokering without a license.
The dealers are also distressed at the site's use of a suggested price from Kelley Blue Book, saying the prices are "unrealistic" and "misleading."
Low mileage
The cars GM is trying to sell aren't trade-ins, as is often the case with cars on dealers' lots. They come mostly from rental fleets and lease turn-ins, have less than 37,000 miles, and come with factory-endorsed extended warranties. 
GM executies say dealers just aren't used to the new system and will like it if they give it a chance.
The web portal is "an opportunity to really just connect the customer back to the dealer," Brian Sweeney, Chevrolet U.S. vice president, told Automotive News.
---