---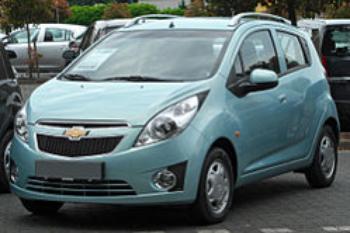 It wasn't long ago that putting fuel-efficient and General Motors in the same sentence would be unheard of. But things have changed.
Today, GM says it has sold more than 1 million vehicles in the U.S. with an EPA fuel-economy rating of 30 miles per gallon in highway driving. It says it's the first American automaker to hit that mark.
GM also released sales figures for December today, showing the highest sales for the month in five years, with deliveries up 5 percent year over year to 245,733 vehicles.
December was also GM's best retail sales month of 2012. Retail volume was up 38 percent from November – about double the industry's estimated increase. Incentive spending was competitive with industry-wide levels, according to J.D. Power PIN estimates, and remains below many Asian and domestic competitors.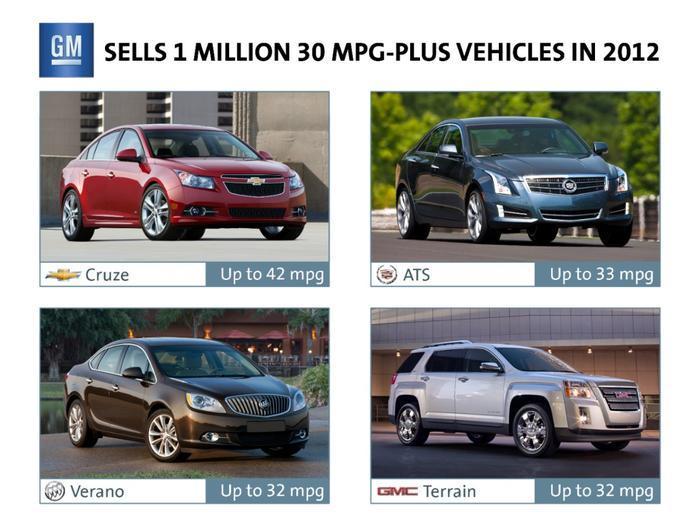 "Our investments in advanced powertrains are clearly paying off, and our smaller vehicles are resonating with customers," said Mark Reuss, president of GM North America. "In 2013, we'll introduce new diesel, eAssist and plug-in vehicles in the United States and expand the availability of turbocharged four-cylinder engines.
"This will give us the most technologically diverse range of fuel-efficient cars and crossovers in the industry."
The news is not so good for Hyundai and Kia. They're forecasting their slowest sales growth in seven yeas, thanks to a slowing global economy and a stronger South Korean currency, which makes its cars more expensive in the U.S.
Part of a trend
GM's experience reflects a growing trend towards higher mpg ratings industrywide. The average EPA city/highway fuel economy of new vehicles sold in the U.S. in December was 23.9 mpg -- up 3.8 mpg (or 19%) from the value in October 2007, according to the University of Michigan Eco-Driving Index.
However, the fuel economy in December was down 0.2 mpg from November, likely reflecting the recent reduction in the price of gasoline. The average fuel economy of all vehicles sold in 2012 was 23.8 mpg, up 1.3 mpg from 2011 and up 2.9 mpg from 2008, the university said.
In the pipeline
GM said it has 13 models that hit the 30 mpg highway mark, with more in the pipeline.
In 2013, Buick will launch the 33-mpg Buick Encore crossover, Cadillac will introduce the ELR extended-range electric vehicle and Chevrolet will expand availability of eAssist to include the new Impala. Chevrolet will also introduce a 2.0-liter clean diesel powertrain for the Chevrolet Cruze and a full-electric powertrain for the Spark.
The launch of the Spark EV will make GM the first company to build a complete electric motor and drive unit for a modern electric vehicle in the United States. By 2017, GM will have up to 500,000 vehicles on the road with some form of electrification, with a focus on plug-in technology.
---