---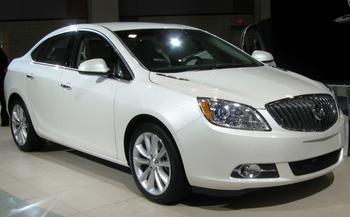 Introduced for the 2012 model year, the Buick Verano sedan is now cruising toward the off-ramp.
General Motors has announced it will end production of the vehicle later this year, after an abbreviated 2017 production run.
The reason appears to be self-evident. The Verano never lived up to expected sales. It's timing was also bad. Falling gasoline prices in late 2014 reignited consumers' love affair with the SUV. Buick has spent more of its resources promoting its Encore and Enclave SUV models.
"When we're thinking about where we're investing for the future, with the whole market moving toward SUVs, that's where we want to put our investment," Buick spokesman Stuart Fowle told the Detroit News.
Big shift in the market
Karl Brauer, senior analyst at Kelley Blue Book, says the cancellation of the Verano coincides with the elimination of the Dodge Dart and Chrysler 200. He says all three moves point to a big shift in the U.S. auto market.
"The growing popularity of SUVs, along with the introduction of so many smaller utilities offering low MSRPs and high fuel efficiency, is making midsize and small sedans appear redundant in the minds of many consumers," Brauer said in an email to ConsumerAffairs.
"When faced with a choice between an SUV and sedan that both cost about the same and offer roughly the same fuel efficiency, consumers overwhelmingly choose the SUV."
Getting harder to justify
Could the sedan disappear from American highways? Brauer says the current trend will make it harder for car companies to justify them within a given brand's model range.
"Expect a continued drop-off in sedan nameplates over the next five years," he said.
Ironically, the Verano performed well with automotive experts, even if it failed to get consumers' attention. In late February, the Verano came in third in J.D. Power's Vehicle Dependability Study, outperforming other models in its class.
But Buick also had another model that did well in the rankings. The Buick Encore, a small SUV, ranked highest for dependability in its class. It also happens to be Buick's best-selling car.
---